Prevention and Treatment
During flip flop season, it's easy to pick out distance runners. Many marathoners and ultra runners have discolored toenails, since the more miles you log, the more likely you are to bruise your nails. Lots of downhill running and too-small shoes can exacerbate the issue both cause your toes to slam into the front of your shoe.
Biomechanics are a factor, too. Some runners pull their toes up while running. If the toes are chronically lifted against the upper toe box of the shoe, it can cause toenail irritation. Also, an unstable big-toe joint can make the other four toes grip too hard (and bruise) upon landing.
Wear properly fitted shoes and trim nails regularly. Long nails get injured more easily.
A bruised nail usually heals on its own within six months. If it's really painful, see a podiatrist who can drain fluid from under the nail. Also, if it's a chronic problem, a sports podiatrist could help you determine if toe-lifting and toe gripping are to blame, in which case an orthotic may be a fix.
Source: active
RIVERA FOOT & ANKLE: At Orlando H.Rivera DPM, our priority is to deliver quality care to informed patients in a comfortable and convenient setting. When you have problems with your feet, you need to turn to a podiatrist who listens and responds… an experienced doctor who knows the field and can effectively diagnose and treat your needs… a friendly physician who counsels you on the best ways to maintain and improve your health. Our physician(s) meet all these criteria. Plus, you benefit from a dedicated team of trained professionals who give you the individualized attention you deserve.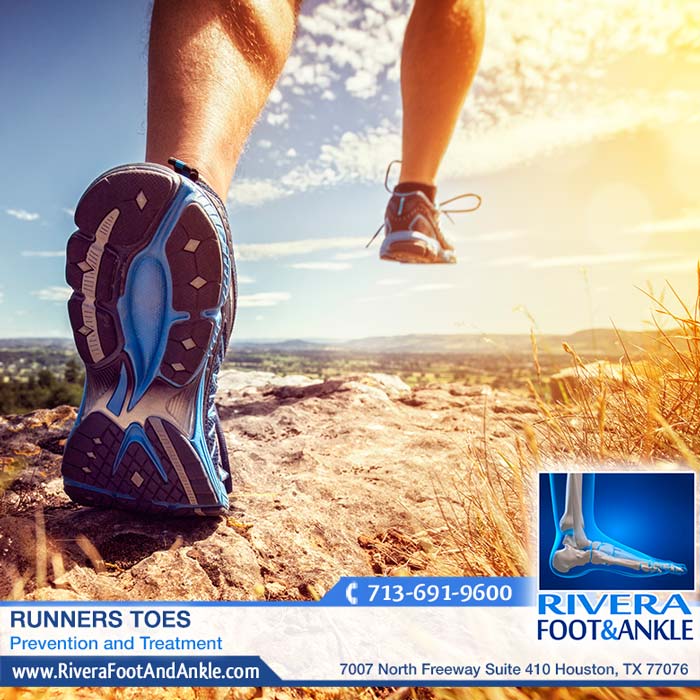 Houston Foot Doctor
Foot and Ankle, Dr. Orlando Rivera, Advanced Foot and Ankle Specialist, Foot and Ankle Podiatry, Houston Foot and Ankle Surgical, Treatment of Foot and Ankle, Foot and ankle specialists, Podiatrist in houston, podiatrist in houston, Orlando H.Rivera DPM, Houston Foot Doctor, Foot and Ankle Surgeon Houston, Ankle and Foot Specialist Houston, Podiatrist Houston, Foot Pain Houston,Best Foot And Ankle Clinics.