3 Tips to Be Healthy
Wear Sunscreen.- Wear sunscreen on the tops of your feet. Apply a broad-spectrum sunscreen with an SPF of at least 30 to your feet when you're going barefoot or wearing open sandals.
Get Support.- Standing for a long time can make your feet sore. Wearing insoles can help make shoes more comfortable.
Look for insoles that have a plastic shell at the bottom. Podiatrists say the shell makes them strong enough to provide real support.
Don't Forget Your Toenails.- Love getting pedicures? The technique matters. Clumsy trimming can lead to hangnails and ingrown toenails.
Also, make sure the nail technician gently pushes back the cuticle rather than cuts it, which can lead to an infection.
If you do your own nails, look for nail "nippers" that have a curved handle and a cutting jaw shaped to follow the natural curve of nails.
Your nails naturally become more brittle with age. Ingredients in some nail polish and polish remover can speed the process, drying out your nails. Elle, a celebrity manicurist who writes a blog for Barielle Cosmetics, suggests her clients use polish that is free of formaldehyde, toluene, and dibutyl phthalate. She also recommends using a nail polish remover free of alcohol.
To moisturize your toenails, Elle suggests using a cuticle cream, petroleum jelly, or vitamin E oil. Put it over the entire nail, including the cuticle, and gently rub it in.
RIVERA FOOT & ANKLE:

At Orlando H.Rivera DPM, our priority is to deliver quality care to informed patients in a comfortable and convenient setting. When you have problems with your feet, you need to turn to a podiatrist who listens and responds… an experienced doctor who knows the field and can effectively diagnose and treat your needs… a friendly physician who counsels you on the best ways to maintain and improve your health. Our physician(s) meet all these criteria. Plus, you benefit from a dedicated team of trained professionals who give you the individualized attention you deserve.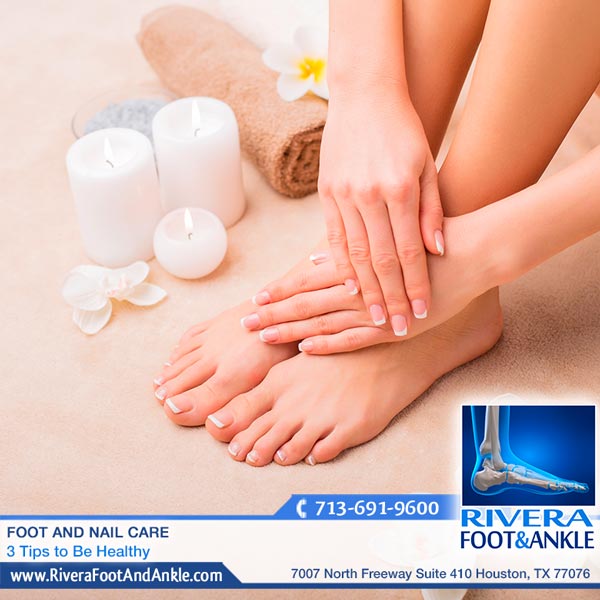 Foot and ankle specialist
Foot and Ankle, Dr. Orlando Rivera, Foot and Ankle Podiatry, Houston Foot and Ankle Surgical, Treatment of Foot and Ankle, Foot and ankle specialists, Podiatrist in houston, podiatrist in houston, Orlando H.Rivera DPM, Houston Foot Doctor, Foot and Ankle Surgeon Houston, Ankle and Foot Specialist Houston, Podiatrist Houston, Foot Pain Houston, Best Foot and Ankle Podiatry, Advanced Foot and Ankle Specialist in Houston,Foot and Ankle in Houston, Advanced Foot and Ankle Specialist in Houston, Foot and Ankle Podiatry in Houston, Foot and Ankle Surgical in Houston, Treatment of Foot and Ankle in Houston, Foot and ankle specialists in Houston, Podiatrist in Houston, Foot Doctor in Houston, Foot and Ankle Surgeon in Houston, Ankle and Foot Specialist in Houston, Foot Pain in Houston, Foot and Ankle Surgery in Houston, Foot And Ankle Clinics in Houston