Have Healthy Feets Now
Over the counter antifungal treatments come in many forms lacquers, creams, lotions, liquids, spray powders, and spray liquids. These products work best on mild cases of athlete's foot, and probably not at all with toenail fungus, which is difficult to treat.
No matter the form, they have one of the following active ingredients, which are all equally effective: terbinafine, tolnaftate, miconazole, ciclopirox, or clotrimazole. Tabari says tea tree oil, sometimes called melaleuca oil, also works well on mild cases of athlete's foot.
Look for a medicated powder or spray if you have sweaty feet. Powders usually contain aluminum chloride hexahydrate to help keep feet dry.
If you have dry feet, look for an antifungal lotion.
Dry your feet thoroughly before you apply antifungal powder or lotion.
Dark and damp conditions let the funguses that cause athlete's foot flourish. Basic good foot hygiene is the best way to prevent fungal infections. Wash your feet frequently and dry them thoroughly, especially between your toes. Wear fresh socks or other hosiery daily.
Source: webmd
RIVERA FOOT & ANKLE:

At Orlando H.Rivera DPM, our priority is to deliver quality care to informed patients in a comfortable and convenient setting. When you have problems with your feet, you need to turn to a podiatrist who listens and responds… an experienced doctor who knows the field and can effectively diagnose and treat your needs… a friendly physician who counsels you on the best ways to maintain and improve your health. Our physician(s) meet all these criteria. Plus, you benefit from a dedicated team of trained professionals who give you the individualized attention you deserve.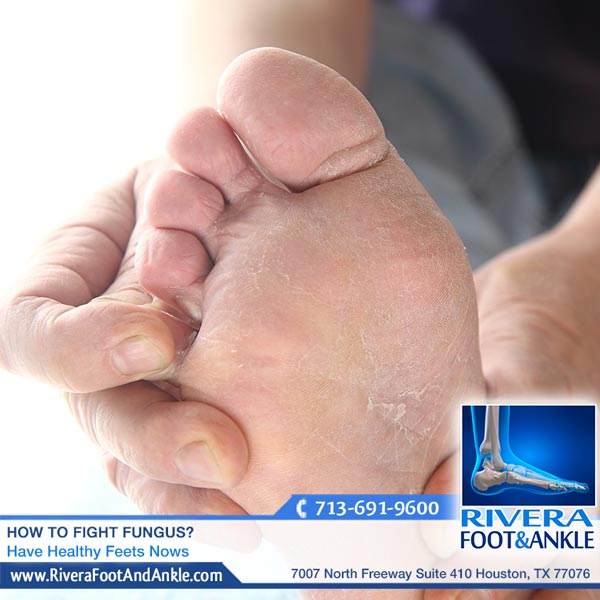 Foot and ankle specialist in Houston
Foot and Ankle, Dr. Orlando Rivera, Foot and Ankle Podiatry, Houston Foot and Ankle Surgical, Treatment of Foot and Ankle, Foot and ankle specialists, Podiatrist in houston, podiatrist in houston, Orlando H.Rivera DPM, Houston Foot Doctor, Foot and Ankle Surgeon Houston, Ankle and Foot Specialist Houston, Podiatrist Houston, Foot Pain Houston, Best Foot and Ankle Podiatry, Advanced Foot and Ankle Specialist in Houston,Foot and Ankle in Houston, Advanced Foot and Ankle Specialist in Houston, Foot and Ankle Podiatry in Houston, Foot and Ankle Surgical in Houston, Treatment of Foot and Ankle in Houston, Foot and ankle specialists in Houston, Podiatrist in Houston, Foot Doctor in Houston, Foot and Ankle Surgeon in Houston, Ankle and Foot Specialist in Houston, Foot Pain in Houston, Foot and Ankle Surgery in Houston, Foot And Ankle Clinics in Houston