How Can Diabetes Affect my Feet?
Diabetes Foot Care
Diabetes can cause two main problems that can affect your feet:
Diabetic neuropathy. Uncontrolled diabetes can damage your nerves. If you have damaged nerves in your legs and feet, you might not feel heat, cold, or pain. This lack of feeling is called "sensory diabetic neuropathy." If you do not feel a cut or sore on your foot because of neuropathy, the cut could get worse and become infected.
The muscles of the foot may not function properly because the nerves that make the muscles work are damaged. This could cause the foot to not align properly and create too much pressure in one area of the foot. It is estimated that up to 10% of people with diabetes will develop foot ulcers. Foot ulcers occur because of nerve damage and peripheral vascular disease.
Peripheral vascular disease. Diabetes also affects the flow of blood. Without good blood flow, it takes longer for a sore or cut to heal. Poor blood flow in the arms and legs is called "peripheral vascular disease." Peripheral vascular disease is a circulation disorder that affects blood vessels away from the heart. If you have an infection that will not heal because of poor blood flow, you are at risk of developing ulcers or gangrene (the death of tissue due to a lack of blood).
Tips for regular diabetes foot care
Daily care
Wash and dry your feet with mild soap and warm water. Dry your feet thoroughly, especially between the toes, an area more prone to fungal infections. Use lotion on your feet to prevent cracking, but don't put the lotion between your toes.
Do not soak feet, or you'll risk infection if the skin begins to break down. If you have nerve damage, take care with water temperature. You risk burning your skin if you can't feel that the water is too hot.
Weekly care
Trim toenails straight across with a nail clipper. You can prevent ingrown toenails if you don't round the corners of the nails or cut down the sides. Smooth the nails with an emery board.
RIVERA FOOT & ANKLE: At Orlando H.Rivera DPM, our priority is to deliver quality care to informed patients in a comfortable and convenient setting. When you have problems with your feet, you need to turn to a podiatrist who listens and responds… an experienced doctor who knows the field and can effectively diagnose and treat your needs… a friendly physician who counsels you on the best ways to maintain and improve your health. Our physician(s) meet all these criteria. Plus, you benefit from a dedicated team of trained professionals who give you the individualized attention you deserve.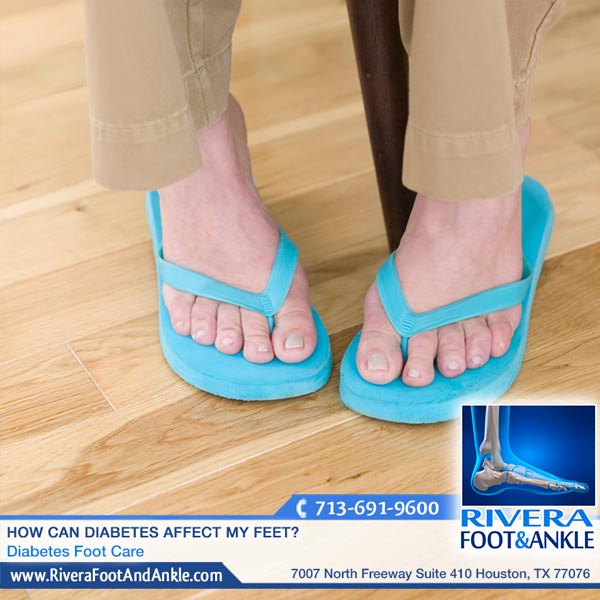 Foot and ankle specialist
Foot and Ankle, Dr. Orlando Rivera, Foot and Ankle Podiatry, Houston Foot and Ankle Surgical, Treatment of Foot and Ankle, Foot and ankle specialists, Podiatrist in houston, podiatrist in houston, Orlando H.Rivera DPM, Houston Foot Doctor, Foot and Ankle Surgeon Houston, Ankle and Foot Specialist Houston, Podiatrist Houston, Foot Pain Houston, Best Foot and Ankle Podiatry, Advanced Foot and Ankle Specialist in Houston,Foot and Ankle in Houston, Advanced Foot and Ankle Specialist in Houston, Foot and Ankle Podiatry in Houston, Foot and Ankle Surgical in Houston, Treatment of Foot and Ankle in Houston, Foot and ankle specialists in Houston, Podiatrist in Houston, Foot Doctor in Houston, Foot and Ankle Surgeon in Houston, Ankle and Foot Specialist in Houston, Foot Pain in Houston, Foot and Ankle Surgery in Houston, Foot And Ankle Clinics in Houston