Foot and Anckle: Truths and Myths
Home treatments
1. Myth: If you cut your nail in a "V" shape, it will reduce its tendency to bend down.
    Truth: Cutting a "V" does not affect the growth of the toenail. The new nail will keep growing downwards.
2.Myth: Repeatedly cutting the nail edges is a good way to treat incarnated toenails.
   Truth: Repeatedly curring the nails does not correct future nail growth and may even worsen the disease.
3.Myth: If you put cotton under the nail will relieve the pain.
   Truth: To put cotton under the nail may be harmful. Bacteria may live in the cotton and stimulate an infection.
4.Myth: You can buy effective treatments for incarnated toenails in a pharmacy.
   Truth: Over the counter topical medications may eliminate pain, but they don't solve the underlaying problem.
Source: medicasur.com.mx
RIVERA FOOT & ANKLE: At Orlando H.Rivera DPM, our priority is to deliver quality care to informed patients in a comfortable and convenient setting. When you have problems with your feet, you need to turn to a podiatrist who listens and responds… an experienced doctor who knows the field and can effectively diagnose and treat your needs… a friendly physician who counsels you on the best ways to maintain and improve your health. Our physician(s) meet all these criteria. Plus, you benefit from a dedicated team of trained professionals who give you the individualized attention you deserve.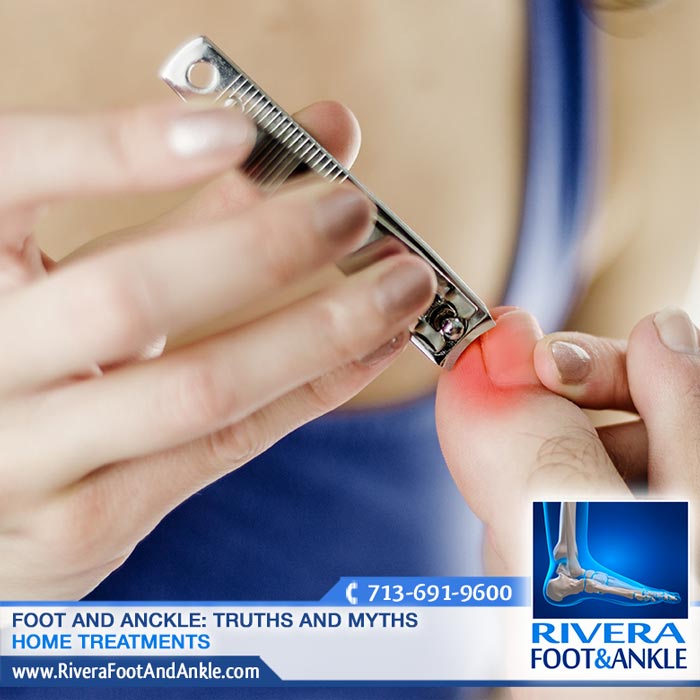 Best Foot and Ankle.
Foot and Ankle, Dr. Orlando Rivera, Foot and Ankle Podiatry, Houston Foot and Ankle Surgical, Treatment of Foot and Ankle, Foot and ankle specialists, Podiatrist in houston, podiatrist in houston, Orlando H.Rivera DPM, Houston Foot Doctor, Foot and Ankle Surgeon Houston, Ankle and Foot Specialist Houston, Podiatrist Houston, Foot Pain Houston, Best Foot and Ankle Podiatry, Advanced Foot and Ankle Specialist in Houston,Foot and Ankle in Houston, Advanced Foot and Ankle Specialist in Houston, Foot and Ankle Podiatry in Houston, Foot and Ankle Surgical in Houston, Treatment of Foot and Ankle in Houston, Foot and ankle specialists in Houston, Podiatrist in Houston, Foot Doctor in Houston, Foot and Ankle Surgeon in Houston, Ankle and Foot Specialist in Houston, Foot Pain in Houston, Foot and Ankle Surgery in Houston, Foot And Ankle Clinics in Houston