Foot and Ankle Podiatrist in Houston for treat the Laser Therapy
Ask us how laser therapy can help!
When a physical illness or injury affects mobility or quality of life, there is a goal: a rapid return to daily activities.
Rivera Foot & Ankle is proud to be at the forefront of medical technology, offering Laser Theraphy MLS. We have invested in the best technology as a key component of our ongoing quest to provide the utmost in health services.
Laser therapy has been FDA approved and proven successful as evidenced by a thorough and reliable study conducted in the best institutions of our country, including Harvard University.
Managing Pain
Reduce inflammation
Regain mobility
It helps speed recovery
COMMON APPLICATIONS
Tendon and ligament injuries
Arthritis
Soft tissue injuries
Muscle strains
Muscle and joint pain
Degenerative joint conditions
Neuropathic pain
Chronic nonhealing wonds
Overall pain
Musculoskeletal disorders
Pre and post surgical treatment
BENEFITS OF LASER THERAPY
Nonsurgical treatment
No patient sedation
Very safe, no side effects
Immediate results
Accelerates the healing process
RIVERA FOOT & ANKLE: At Orlando H.Rivera DPM, our priority is to deliver quality care to informed patients in a comfortable and convenient setting. When you have problems with your feet, you need to turn to a podiatrist who listens and responds… an experienced doctor who knows the field and can effectively diagnose and treat your needs… a friendly physician who counsels you on the best ways to maintain and improve your health. Our physician(s) meet all these criteria. Plus, you benefit from a dedicated team of trained professionals who give you the individualized attention you deserve.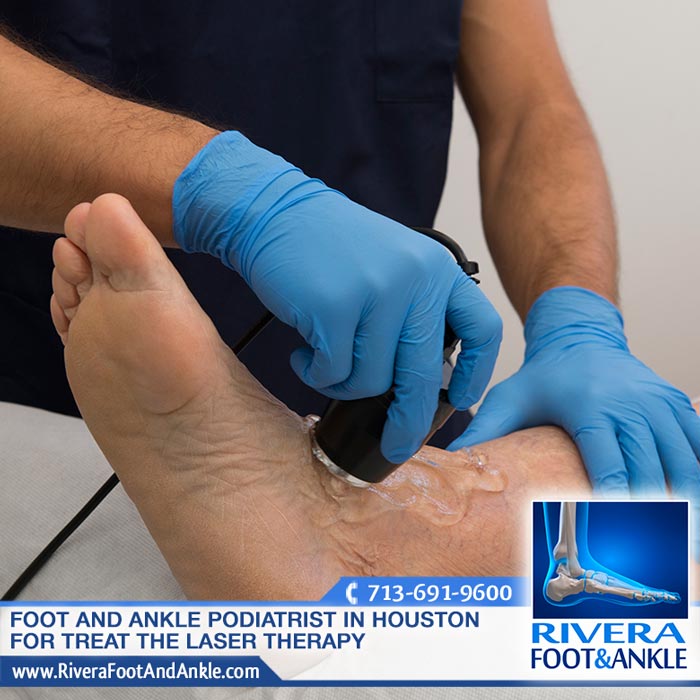 Laser therapy of Foot and Ankle in Houston.
Foot and Ankle, Dr. Orlando Rivera, Foot and Ankle Podiatry, Houston Foot and Ankle Surgical, Treatment of Foot and Ankle, Foot and ankle specialists, Podiatrist in houston, podiatrist in houston, Orlando H.Rivera DPM, Houston Foot Doctor, Foot and Ankle Surgeon Houston, Ankle and Foot Specialist Houston, Podiatrist Houston, Foot Pain Houston, Best Foot and Ankle Podiatry, Advanced Foot and Ankle Specialist in Houston,Foot and Ankle in Houston, Advanced Foot and Ankle Specialist in Houston, Foot and Ankle Podiatry in Houston, Foot and Ankle Surgical in Houston, Treatment of Foot and Ankle in Houston, Foot and ankle specialists in Houston, Podiatrist in Houston, Foot Doctor in Houston, Foot and Ankle Surgeon in Houston, Ankle and Foot Specialist in Houston, Foot Pain in Houston, Foot and Ankle Surgery in Houston, Foot And Ankle Clinics in Houston