What Is Achilles Tendonitis and Who Gets It?
Your Achilles tendon is located at the back of your foot, just above your heel. It connects your heel to the two muscles of your calf and helps your foot push forward every time you take a step.
If the tendon becomes swollen or irritated due to overuse, it can lead to the painful condition called Achilles tendonitis. If Achilles tendonitis goes untreated, it can become a chronic (ongoing) condition that makes just walking around almost impossible.
Achilles tendonitis is a very common running injury. But it can also affect basketball players, dancers, or people who put a lot of repeated stress on their feet. It can be very painful.
What Are the Symptoms of Achilles Tendonitis?
Most cases of Achilles tendonitis start out slowly, with very little pain, and then grow worse over time. Some of the more common symptoms include:
mild pain or an ache above the heel and in the lower leg, especially after running or doing other physical activities
pain that gets worse when walking uphill, climbing stairs, or taking part in intense or prolonged exercise
stiffness and tenderness in the heel, especially in the morning, that gradually goes away
swelling or hard knots of tissue in the Achilles tendon
a creaking or crackling sound when moving the ankle or pressing on the Achilles tendon
weakness in the affected leg
Source: kidshealth.org
RIVERA FOOT & ANKLE: At Orlando H.Rivera DPM, our priority is to deliver quality care to informed patients in a comfortable and convenient setting. When you have problems with your feet, you need to turn to a podiatrist who listens and responds… an experienced doctor who knows the field and can effectively diagnose and treat your needs… a friendly physician who counsels you on the best ways to maintain and improve your health. Our physician(s) meet all these criteria. Plus, you benefit from a dedicated team of trained professionals who give you the individualized attention you deserve.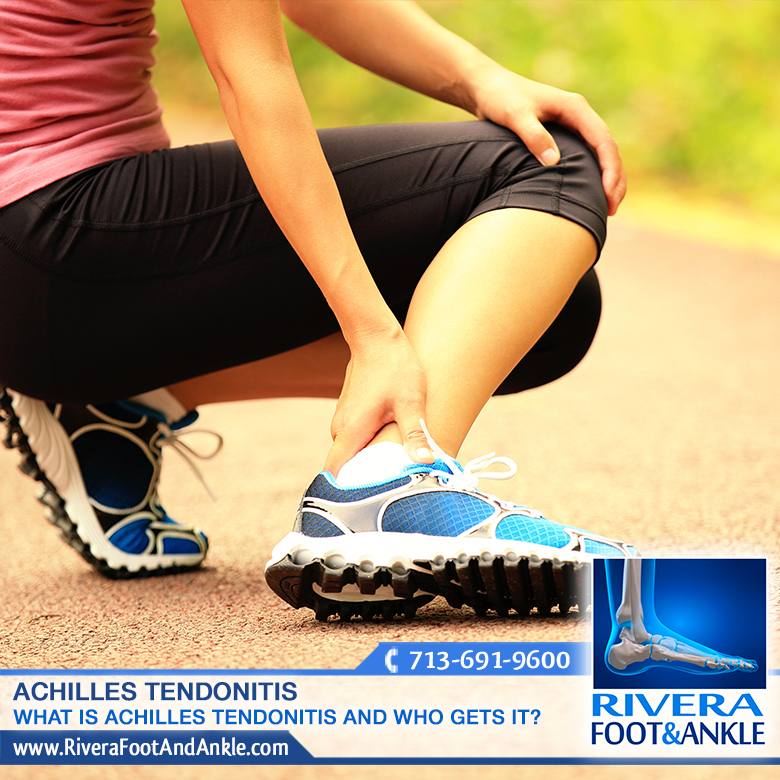 Foot and ankle doctor.
Foot and Ankle, Dr. Orlando Rivera, Foot and Ankle Podiatry, Houston Foot and Ankle Surgical, Treatment of Foot and Ankle, Foot and ankle specialists, Podiatrist in houston, podiatrist in houston, Orlando H.Rivera DPM, Houston Foot Doctor, Foot and Ankle Surgeon Houston, Ankle and Foot Specialist Houston, Podiatrist Houston, Foot Pain Houston, Best Foot and Ankle Podiatry, Advanced Foot and Ankle Specialist in Houston,Foot and Ankle in Houston, Advanced Foot and Ankle Specialist in Houston, Foot and Ankle Podiatry in Houston, Foot and Ankle Surgical in Houston, Treatment of Foot and Ankle in Houston, Foot and ankle specialists in Houston, Podiatrist in Houston, Foot Doctor in Houston, Foot and Ankle Surgeon in Houston, Ankle and Foot Specialist in Houston, Foot Pain in Houston, Foot and Ankle Surgery in Houston, Foot And Ankle Clinics in Houston