Common Disorders
Warts are very common soft tissue condition of the foot that can be quite painful. They are caused by a virus, which generally invades the skin through small or invisible cuts and abrasions. They can appear anywhere on the skin, but technically only those on the sole are properly called plantar warts. Children and teenagers, tend to be more susceptible to warts than adults; some people seem to be immune.
Identification Problems
Most warts are harmless, even though they may be painful. They are often mistaken for corns or calluses-which are layers of dead skin that build up to protect an area which is being continuously irritated. The wart, however, is a viral infection.
It is also possible for a variety of more serious lesions to appear on the foot, including malignant lesions such as carcinomas and melanomas. Although rare, these conditions can sometimes be misidentified as a wart.
It is wise to consult a podiatric physician when any suspicious growth or eruption is detected on the skin of the foot in order to ensure a correct diagnosis.
Treatment
Self treatment is generally not advisable. Over-the-counter preparations contain acids or chemicals that destroy skin cells, and it takes an expert to destroy abnormal skin cells (warts) without also destroying surrounding healthy tissue. Self treatment with such medications especially should be avoided by people with diabetes and those with cardiovascular or circulatory disorders. Never use them in the presence of an active infection.
It is possible that your podiatric physician will prescribe and supervise your use of a wart-removal preparation. More likely, however, removal of warts by a simple surgical procedure, performed under local anesthetic, may be indicated. Lasers have become a common and effective treatment. A procedure known as CO2 laser cautery is performed under local anesthesia either in your podiatrist's office surgical setting or an outpatient surgery facility. The laser reduces post-treatment scarring and is a safe form for eliminating wart lesions.
Source: chicagopodiatry
RIVERA FOOT & ANKLE: At Orlando H.Rivera DPM, our priority is to deliver quality care to informed patients in a comfortable and convenient setting. When you have problems with your feet, you need to turn to a podiatrist who listens and responds… an experienced doctor who knows the field and can effectively diagnose and treat your needs… a friendly physician who counsels you on the best ways to maintain and improve your health. Our physician(s) meet all these criteria. Plus, you benefit from a dedicated team of trained professionals who give you the individualized attention you deserve.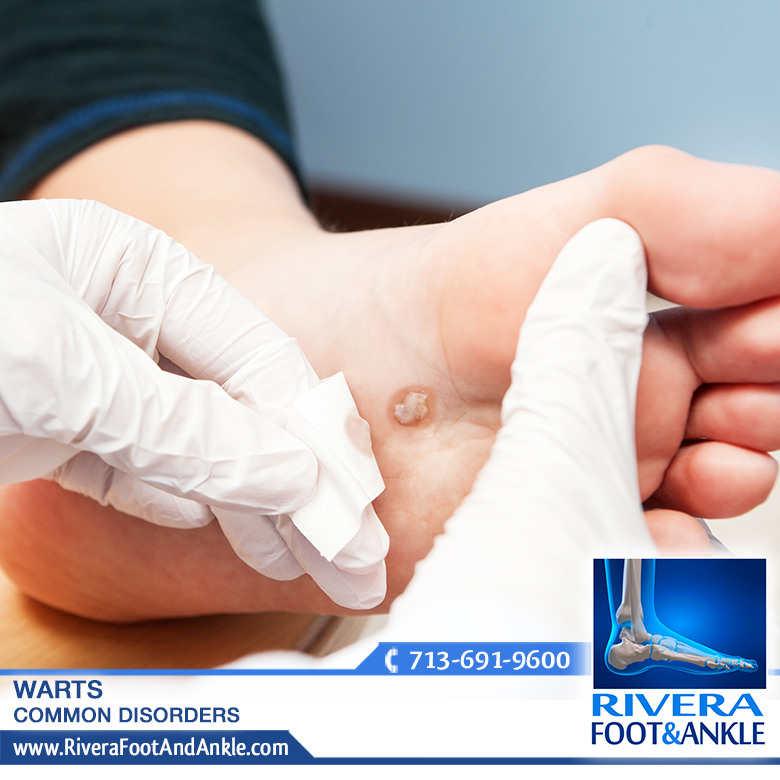 Podiatris in Houston
Foot and Ankle, Dr. Orlando Rivera, Foot and Ankle Podiatry, Houston Foot and Ankle Surgical, Treatment of Foot and Ankle, Foot and ankle specialists, Podiatrist in houston, podiatrist in houston, Orlando H.Rivera DPM, Houston Foot Doctor, Foot and Ankle Surgeon Houston, Ankle and Foot Specialist Houston, Podiatrist Houston, Foot Pain Houston, Best Foot and Ankle Podiatry, Advanced Foot and Ankle Specialist in Houston,Foot and Ankle in Houston, Advanced Foot and Ankle Specialist in Houston, Foot and Ankle Podiatry in Houston, Foot and Ankle Surgical in Houston, Treatment of Foot and Ankle in Houston, Foot and ankle specialists in Houston, Podiatrist in Houston, Foot Doctor in Houston, Foot and Ankle Surgeon in Houston, Ankle and Foot Specialist in Houston, Foot Pain in Houston, Foot and Ankle Surgery in Houston, Foot And Ankle Clinics in Houston