Small Cuts Can Create Big Problem in Diabetics
Call Rivera Foot & Ankle Now!
Just a little cut on the foot can become a big problem for a person with diabetes. Diabetics are much more susceptible to developing infections on the feet that, if left undetected, can lead to amputation, according to doctors.
"Most of the time, people will have a small wound, like a cut between the toes, and instead of seeing a physician, they talk to a friend or family member," said Dr. Jose Ayala, a Harlingen podiatrist and wound-care specialist. "They put medicine on it themselves, and no one tends to believe it's a major problem."
Within seven days, however, a small wound on the foot of someone with diabetes can quickly become seriously infected, requiring hospitalization and surgery, Ayala said. According to an article that appeared last month in the journal Diabetes Care, diabetics are eight times as likely as non-diabetics to undergo amputation of a lower limb. Those amputations are frequently related to small wounds that became infected, doctors said.
Luckily, serious infections can be prevented by practicing good foot care. Ayala suggests that diabetics have their feet examined by a podiatrist or other doctor at least four times a year. A doctor can check your feet for wounds, show you how to properly cut toenails, and test the sensation in your feet, he said.
Source: podiatryinfocanada
RIVERA FOOT & ANKLE: At Orlando H.Rivera DPM, our priority is to deliver quality care to informed patients in a comfortable and convenient setting. When you have problems with your feet, you need to turn to a podiatrist who listens and responds… an experienced doctor who knows the field and can effectively diagnose and treat your needs… a friendly physician who counsels you on the best ways to maintain and improve your health. Our physician(s) meet all these criteria. Plus, you benefit from a dedicated team of trained professionals who give you the individualized attention you deserve.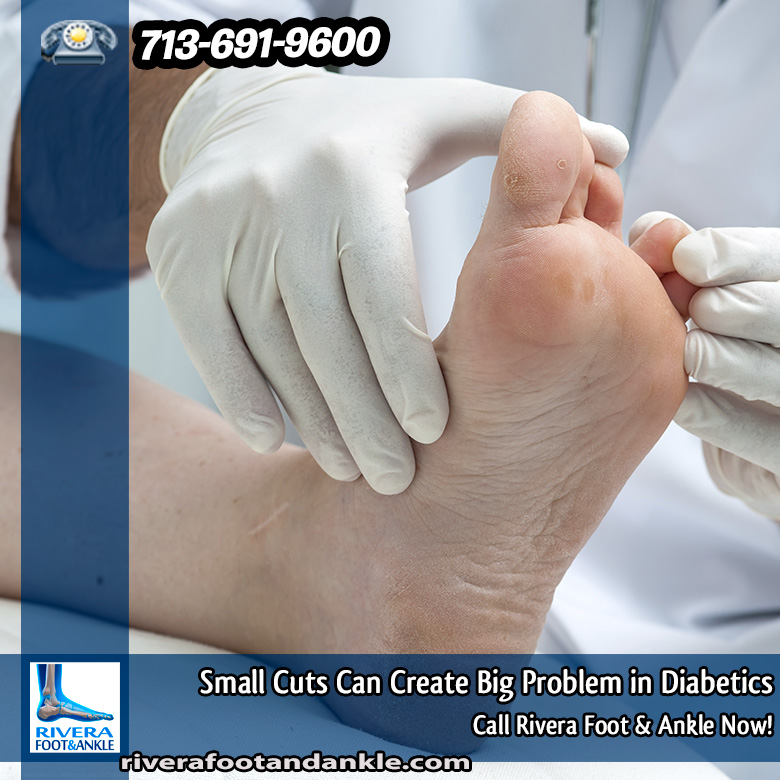 Foot and Ankle Podiatry
Keywords: Foot and Ankle, Dr. Orlando Rivera, Advanced Foot & Ankle Specialist, Foot and Ankle Podiatry, Houston Food & Ankle Surgical, Treatment of Foot and Ankle, Foot & ankle specialists, Podiatrist in houston, podiatrist in houston, Orlando H.Rivera DPM, Houston Foot Doctor, Food and Ankle Surgeon Houston, Ankle and Foot Specialist Houston, Podiatrist Houston, Foot Pain Houston