Swollen Ankles: Symptoms, Causes & Treatment
This fluid buildup can have a number of different causes, most notably insufficiency of the venus system, water retention secondary to heart, kidney, liver, or endocrine disease, as well as local musculoskeletal issues such as trauma, infections, or tumors. 
All of these can cause swollen ankles.
Pregnant women deal with swollen ankles on a daily basis due to weight gain and water retention. Waiters and waitresses also deal with swollen ankles after standing and walking for long periods. Athletes often suffer from swollen ankles for the same reasons, and also due to repetitive microtrauma.
Swollen ankles can occur to anyone at any age. Most swollen ankles are attributed to strains or sprains, but they are also common among people who suffer from conditions that cause excessive fluid buildup, a condition known in medical circles as edema.
The swelling can affect one or both ankles. The swelling may also be accompanied by other symptoms such as redness, stiffness, or warmth.
Swollen Ankle Symptoms That May Develop
It is important to understand that a swollen ankle can sometimes be a symptom of an underlying problem. In addition to the ankle swelling, symptoms may include:
Pain
Warmth
Stiffness
Tenderness
Redness
Swelling in foot or leg
Why Is My Ankle Swollen?
Here is a look at some of the various causes of a swollen ankle:
Ankle pain
Tendonitis
Arthritis
Bug bite or sting
Obesity
Burn
Cellulitis (infection of the skin)
Cirrhosis (liver)
Congestive heart failure
Deep vein thrombosis (DVT)
Fracture within ankle
Kidney failure
Osteomyelitis (infection of the bone)
Pseudogout
Rheumatoid arthritis
Scleroderma
Sprains and strains
Vasculitis
Tumor
Trauma
Infection
Stress fracture
Medication
Malnutrition
Joint infection
Prolonged sitting, standing or walking
Athletic activities
Pregnancy
Lymphatic diseases
Because swollen ankles are generally a symptom of an underlying problem, it is critical to have a swollen ankle examined by a doctor without unnecessary delay.
Common medications that may cause your ankles to swell include:
Estrogen and testosterone, which are sometimes found in birth control pills or used in hormone replacement therapy.
Steroids.
Antidepressants, including MAO inhibitors and tricyclics.
Calcium channel blockers or blood pressure medicines.
Swollen Ankle Treatment Options For You
Treatment for a swollen ankle will depend on the diagnosis. Once your doctor has determined the cause of the problem, he or she will be able to discuss treatment options with you.
In most cases, elevation of the foot to eight inches above the level of the heart is recommended for a swollen extremity. This increases blood return without significantly decreasing the flow of oxygen-rich blood into the foot. Other ways to decrease swelling in your ankles include:
Increasing muscle activity through exercise
Avoiding standing in one position for extended periods
Limiting salt or sodium intake
Drinking plenty of water, especially in extremely hot or cold environments
Avoiding laxatives if possible
Avoiding contraceptive pills
Avoiding hormone replacement therapy when possible
Wearing supportive socks
Using a compression pump to help fluid return to blood vessels
Not abusing diuretics!
Before acting on any of these suggestions you should consult your doctor. He or she may prefer different treatment methods than the ones listed above. For example, if you are experiencing swollen ankles because of a medication you are taking, you may just need to switch your prescription.
How Can I Prevent My Ankles From Swelling?
In most cases, swollen ankles can be prevented, especially if the problem is not linked to an underlying medical condition or sudden trauma.
Avoid sitting or standing without movement for long periods. If you have to take a five-hour plane ride, try standing up or adjusting yourself frequently to circulate your blood. If you are driving a long distance, stop every hour or so to stretch your legs.
Exercise regularly and always stretch before and after each workout in order to warm up and cool down. If you are overweight, talk to your doctor about a weight-loss program or changes you need to make in your diet.
Avoid wearing restrictive clothing such as socks with elastic around the ankles. If the swelling is caused by a medication you are taking, talk with your doctor about the side effects.
Unfortunately, swollen ankles are sometimes a symptom of another problem, such as liver disease. Managing the underlying problem can prevent symptoms such as swelling from occurring.
If you play sports, you may be increasing your risk of injury, and ultimately swollen ankles. Wearing protective and supportive footwear can reduce your chances of getting swollen ankles.
RIVERA FOOT & ANKLE: At Orlando H.Rivera DPM, our priority is to deliver quality care to informed patients in a comfortable and convenient setting. When you have problems with your feet, you need to turn to a podiatrist who listens and responds… an experienced doctor who knows the field and can effectively diagnose and treat your needs… a friendly physician who counsels you on the best ways to maintain and improve your health. Our physician(s) meet all these criteria. Plus, you benefit from a dedicated team of trained professionals who give you the individualized attention you deserve.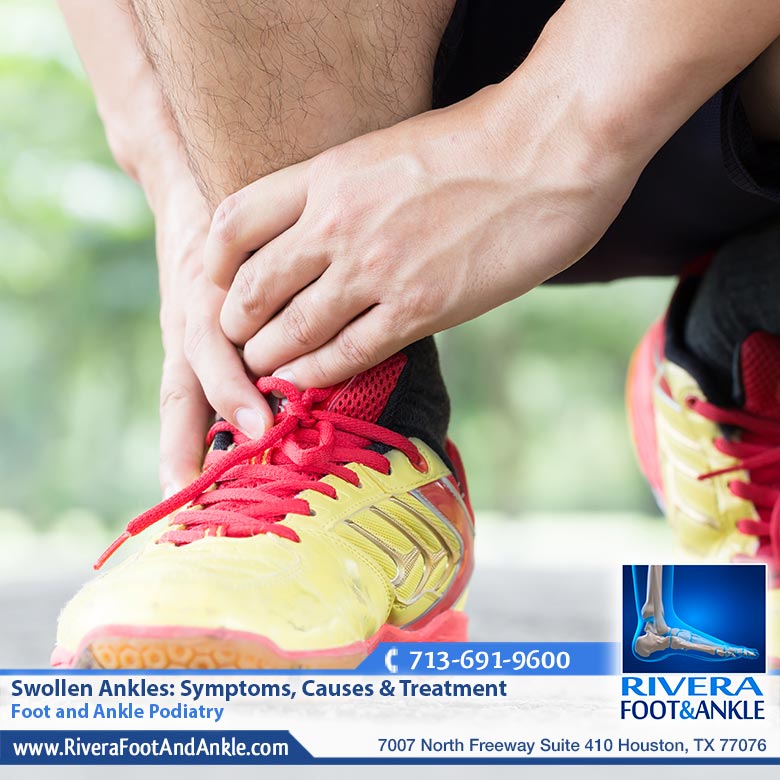 Foot and Ankle Podiatry
Foot and Ankle, Dr. Orlando Rivera, Advanced Foot & Ankle Specialist, Foot and Ankle Podiatry, Houston Foot & Ankle Surgical, Treatment of Foot and Ankle, Foot & ankle specialists, Podiatrist in houston, podiatrist in houston, Orlando H.Rivera DPM, Houston Foot Doctor, Foot and Ankle Surgeon Houston, Ankle and Foot Specialist Houston, Podiatrist Houston, Foot Pain Houston.