What is causing the tingling in the feet?
Overview
Tingling the feet is a common concern and often the feet may also feel numb and painful. This isn't usually a reason for concern, as may be caused by pressure on the nerves when you've been in one position for too long. The feeling should go away when you move. 
However, tingling in the feet may be persistent. If the "pins and needles" feeling continues for a long period of time or is accompanied by pain, you should see your doctor. They can help you determine the cause.
Causes
Possible causes of tingling feet are many, so please refer to this short list below and consult a doctor for more thorough explanation and diagnosis.
Diabetic neuropathy
Diabetes is one of the most common causes for persistent tingling in the feet. Diabetic neuropathy is the result of nerve damage caused by high blood sugar.
Since diabetes is so common today, please check this list of for you or your loved ones. Symptoms of diabetes include:
extreme thirst
itchy skin
pain or numbness in hands and feet
increased hunger
unexpected weight loss
slow healing of cuts or sores
yeast infections
vision changes
etc,
Pregnancy
It's not uncommon to experience tingling in your feet during pregnancy. As the uterus grows, it can put pressure on the nerves that run down the legs. This causes a "pins and needles" sensation.
You may be able to relieve the tingling by:
resting with your feet up
changing positions
making sure you're well hydrated
If the tingling worsens, doesn't go away, or is accompanied by weakness or swelling, you should see your doctor to make sure nothing serious is going on.
Vitamin deficiency
Not getting enough of certain vitamins, particularly B vitamins, can cause tingling of the feet. Being vitamin deficient can be due to a poor diet or to an underlying condition.
Kidney failure
Kidney failure may cause tingling in the feet. Kidney failure can have many causes, but the most common are diabetes and high blood pressure.
Symptoms of tingling feet caused by kidney failure include:
pain, tingling, and numbness in the legs and feet
cramping and muscle twitches
"pins and needles" sensation
muscle weakness
Your doctor may do a number of tests to determine if kidney failure is the cause of your tingling feet. Tests may include
Autoimmune diseases
Autoimmune diseases occur when the body attacks itself. A number of autoimmune diseases can cause tingling in the feet. Some of these conditions include:
lupus
Sjögren's syndrome
Guillain-Barré syndrome
celiac disease
rheumatoid arthritis (RA)
Treatments for autoimmune diseases vary. They may include dietary changes and medications.
Infections
A number of infections can cause inflammation of the nerves. This can lead to tingling of the feet. These infections include:
Lyme disease
shingles
hepatitis B and C
If you think you may have an infection, you should see your doctor.
Medication use
If you're taking a medication and experiencing tingling in your feet, you should talk to your doctor. They'll be able to determine if this is a side effect of your medication. They'll also decide whether your dose needs to be changed.
Pinched nerve
If you have a pinched nerve in your back it can cause tingling in your feet. Pinched nerves may be due to injury or swelling. Besides pain you can also experience changes in sensations and decreased range of motion.
When to see a doctor
If you experience tingling in your feet that doesn't go away, gets worse, is accompanied by pain, or keeps you from walking well, you should see a doctor. You may be at risk for falls if you cannot feel your feet properly.
If you experience tingling in your feet accompanied by a severe headache, tingling in your face, or sudden weakness, you should get immediate medical attention. These may be signs of a stroke, which can be life-threatening.
Source:foot
RIVERA FOOT & ANKLE: At Orlando H.Rivera DPM, our priority is to deliver quality care to informed patients in a comfortable and convenient setting. When you have problems with your feet, you need to turn to a podiatrist who listens and responds… an experienced doctor who knows the field and can effectively diagnose and treat your needs… a friendly physician who counsels you on the best ways to maintain and improve your health. Our physician(s) meet all these criteria. Plus, you benefit from a dedicated team of trained professionals who give you the individualized attention you deserve.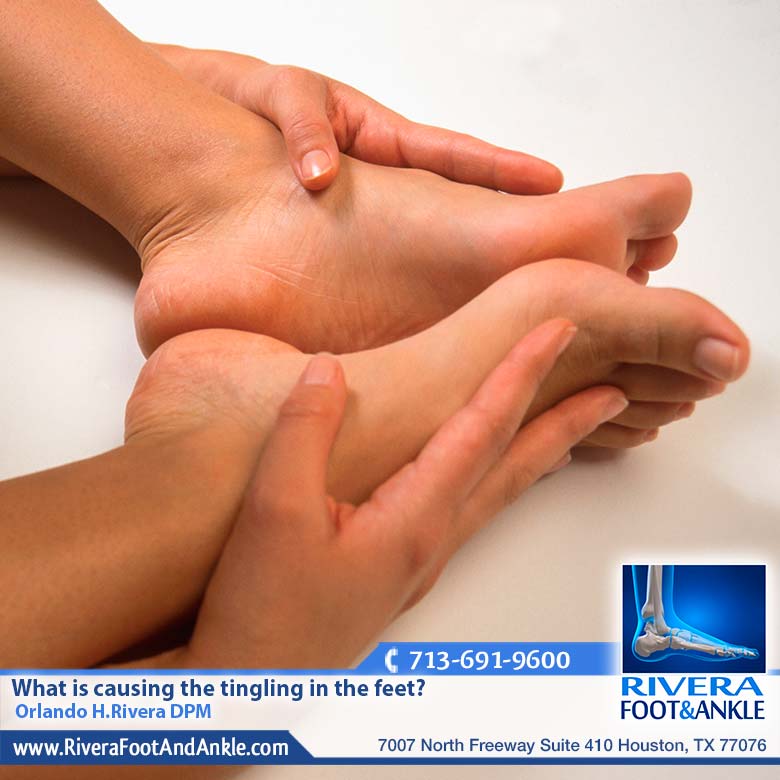 Orlando H.Rivera DPM
Foot and Ankle, Dr. Orlando Rivera, Advanced Foot & Ankle Specialist, Foot and Ankle Podiatry, Houston Foot & Ankle Surgical, Treatment of Foot and Ankle, Foot & ankle specialists, Podiatrist in houston, podiatrist in houston, Orlando H.Rivera DPM, Houston Foot Doctor, Foot and Ankle Surgeon Houston, Ankle and Foot Specialist Houston, Podiatrist Houston, Foot Pain Houston.