Five Natural Remedies for Athlete's Foot
In the unfortunate event of getting this dreaded fungal foot infection, there are some great natural remedies that may help get it under control: 
1. Internal Probiotic Remedy
Gut health affects so many aspects of overall health! Ramp up probiotics, avoid sugar and excessively starchy foods, and focus on nourishing foods like bone broth and sauerkraut.
Those who frequently battle infections, whether athlete's foot or the common cold, may have an underlying gut issue. Our immune systems are responsible for fighting off infections, and while the occasional cold or flu gives them the workout they need to stay strong, fungal infections are more a symptom of imbalance. When our guts are imbalanced, our immune systems become weakened, and we become susceptible to infections.
Candida is a type of fungal yeast and is often at the root of lots of health conditions like eczema, arthritis, and allergies. While it is a natural strain that is found in everyone's guts, problems arise when it becomes overgrown due to lack of beneficial bacteria. Doing a diet like the GAPS diet can help to eliminate harmful fungi and bring the gut back into balance.
Likewise, tinea fungus (the fungus responsible for athlete's foot) is normal to have on the skin. However if our skin bacteria is out of balance, then our skin is more susceptible to infections.
Not only is it necessary to bring the gut bacteria into balance, but it may also be beneficial to balance the bacteria (microbiome) on the skin.
2. Topical Probiotic Remedy
While oral probiotics are beneficial to your gut and overall health, in the event of an acute athlete's foot infection, you may find topical application of probiotics helpful.
Let's take the same idea as this recipe for my probiotic face mask and make it the base for a natural remedy for athlete's foot.
Mix together:
1 TBSP plain organic yogurt (full fat preferred)
1 capsule of saccharomyces boulardii (a beneficial yeast that has been shown to battle pathogenic species of fungi).
Use a cotton ball to spread the mixture onto the infected areas and allow to sit for about half an hour.
3. Apple Cider Vinegar Remedy
Apple cider vinegar (ACV for those familiar with this crushed, fermented apple product) has been used since the times of Hippocrates, when it was prized for its medicinal properties. It's known to be especially beneficial against yeast and fungus, and many people take it internally to keep candida in balance.
In a foot bath container, mix together:
2 cups of water
1/2 cup of apple cider vinegar
Soak your feet for around half an hour. You can also apply plain ACV directly to the infection with a cotton ball. Apple cider vinegar will likely sting, so be aware and dilute more if necessary.
4. Essential Oil Remedies
There are a few essential oils that can be used to battle fungal infections, and skin conditions are one of my favorite uses of essential oils.
Anti-fungal essential oils include:
tea tree
lavender
oregano
thyme
geranium
clove
There are several ways you can use essential oils as natural remedies for athlete's foot.
How to Make Your Own Salve:
Use this simple recipe for homemade healing salve to create your own anti-fungal salve by adding anti-fungal essential oils:
2 cups olive oil or almond oil
1/4 cup beeswax pastilles
40 drops tea tree essential oil
20 drops lavender essential oil
12 drops each oregano and clove essential oils
To make:
Heat the oil in a double boiler with the beeswax until melted and mixed.
Add the essential oils and stir.
Pour into small tins, glass jars, or lip chap tubes and apply to the infected areas as often as you think of it.
5. Remedies for Footwear and Towels
It turns out sticking your sneakers in the freezer for about 24 hours may kill the fungus and prevent it from growing further. Additionally, you could use an anti-fungal essential oil spray like the one suggested above to spritz your sneakers and kill the fungus.
In addition to disinfecting your shoes, it is also a good idea to toss or disinfect any socks worn while infected, plus disinfect towels used.
To disinfect towels, wash on the hottest setting on the washing machine. Add anti-fungal essential oils, vinegar, or hydrogen peroxide to kill germs. In cases of persistent or recurrent athlete's foot infections, consider throwing away items that may have come in contact with the fungus.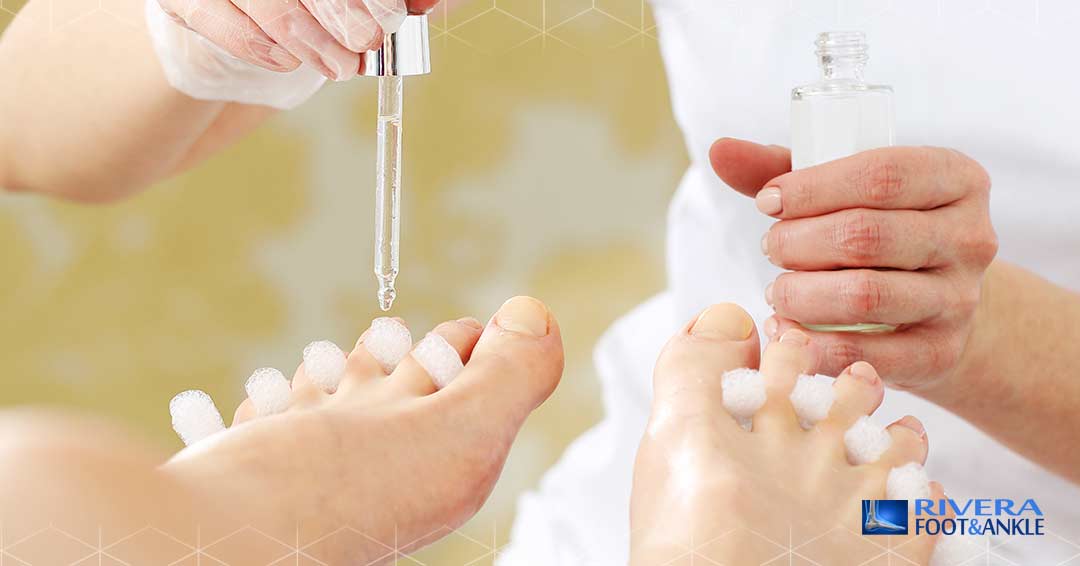 Source: Wellnessmama
RIVERA FOOT & ANKLE: At Orlando H.Rivera DPM, our priority is to deliver quality care to informed patients in a comfortable and convenient setting. When you have problems with your feet, you need to turn to a podiatrist who listens and responds… an experienced doctor who knows the field and can effectively diagnose and treat your needs… a friendly physician who counsels you on the best ways to maintain and improve your health. Our physician(s) meet all these criteria. Plus, you benefit from a dedicated team of trained professionals who give you the individualized attention you deserve.
Podiatrist in Houston
Foot and Ankle, Dr. Orlando Rivera, Advanced Foot & Ankle Specialist, Foot and Ankle Podiatry, Houston Foot & Ankle Surgical, Treatment of Foot and Ankle, Foot & ankle specialists, Podiatrist in houston, podiatrist in houston, Orlando H.Rivera DPM, Houston Foot Doctor, Foot and Ankle Surgeon Houston, Ankle and Foot Specialist Houston, Podiatrist Houston, Foot Pain Houston.