Treatment of Foot and Ankle
Location of Arthritis in the Foot and Ankle
Four areas of the foot are most frequently affected by arthritis: the big toe, the midfoot, the hindfoot, and the ankle. 
Arthritis in the Big Toe
Arthritis in the big toe—also called hallux rigidus—is common. It typically affects the first metatarsophalangeal joint, which is located at the base of the big toe and connects the toe to the rest of the foot. Every time you take a step, this joint bears your body weight; arthritis in this joint can increasingly limit your ability to walk without pain.
Arthritis in the Midfoot
The midfoot joints, called tarsometatarsal joints, are located almost halfway between the ankle and the toes, slightly closer to the ankle. These joints connect the long bones that form the arch of the foot to the bony part of the foot in front of the ankle. Arthritis that develops in the midfoot can affect one or more of these joints, causing pain when walking or climbing stairs.
Arthritis in the Hindfoot
Arthritis in the hindfoot affects the three joints below the ankle and above the heel: the subtalar joint, the talonavicular joint, and the calcaneocuboid joint. Together, these joints allow the foot to have side-to-side movement, as well as other motions, and aid in bearing the weight of the body. Arthritis in these joints can cause pain and swelling in the feet and ankles.
Arthritis in the Ankle
The ankle joint connects the foot to the leg and allows the foot to flex and point. Arthritis in the ankle can limit range of motion and affect standing, walking, and jumping.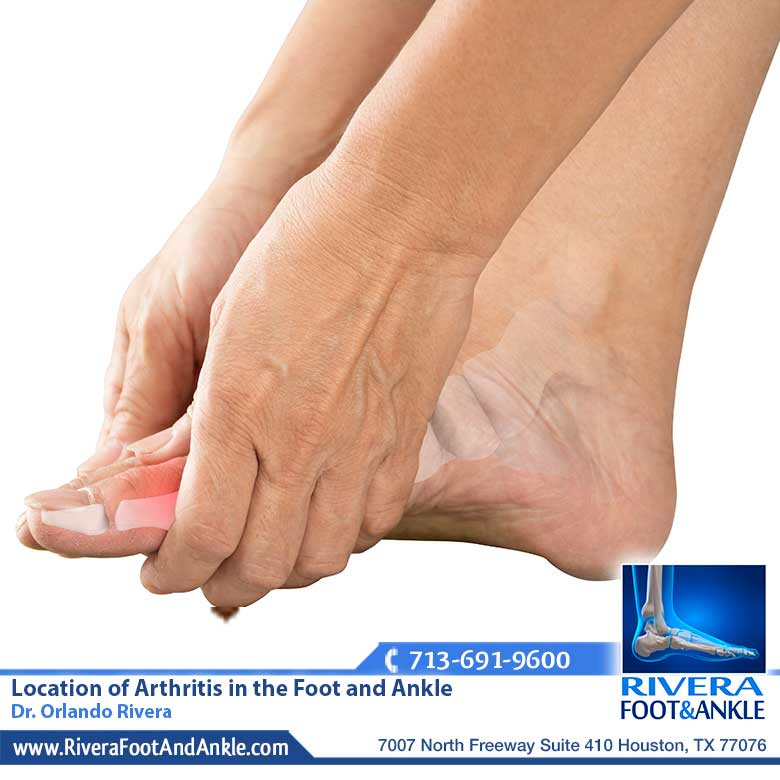 Source: NyuLangone
RIVERA FOOT & ANKLE: At Orlando H.Rivera DPM, our priority is to deliver quality care to informed patients in a comfortable and convenient setting. When you have problems with your feet, you need to turn to a podiatrist who listens and responds… an experienced doctor who knows the field and can effectively diagnose and treat your needs… a friendly physician who counsels you on the best ways to maintain and improve your health. Our physician(s) meet all these criteria. Plus, you benefit from a dedicated team of trained professionals who give you the individualized attention you deserve.
 Treatment of Foot and Ankl
Foot and Ankle, Dr. Orlando Rivera, Advanced Foot & Ankle Specialist, Foot and Ankle Podiatry, Houston Foot & Ankle Surgical, Treatment of Foot and Ankle, Foot & ankle specialists, Podiatrist in houston, podiatrist in houston, Orlando H.Rivera DPM, Houston Foot Doctor, Foot and Ankle Surgeon Houston, Ankle and Foot Specialist Houston, Podiatrist Houston, Foot Pain Houston.