Advanced Foot & Ankle Specialist
Types of Foot & Ankle Arthritis
Arthritis, a condition characterized by damage and stiffness of the joints, may affect any of the more than 30 joints in the foot and ankle. The joints that connect the bones of the foot and ankle provide the body with the balance and stability required to stand, walk, and pursue other physical activities. 
As arthritis advances, it may damage cartilage, the smooth material lining the ends of bones in the joints. Cartilage allows the foot and ankle bones to move against each other without friction. If cartilage erodes, the bones may begin to rub directly against each other, causing further joint damage and a deep, aching pain, particularly during movement. Bones that rub together may also cause bony growths to develop, which may interfere with joint motion and worsen pain. Over time, joint damage may also lead to stiffness and deformity in the foot and ankle and make walking and other movements difficult.
Types of Foot and Ankle Arthritis
There are many types of arthritis, but arthritis in the foot and ankle is usually one of three types: osteoarthritis, rheumatoid arthritis, or post-traumatic arthritis.
Osteoarthritis, often called "wear and tear" arthritis, develops most often in people over age 50. As cartilage gets worn down with use over time, it can result in pain and stiffness in the joint. Osteoarthritis may develop in an isolated joint or area—for example, in one foot and not the other.
Rheumatoid arthritis is an autoimmune disorder, which means that the body mistakenly attacks its own tissues. This immune response targets soft tissue in the joints called the synovium, resulting in warmth, redness, swelling, stiffness, and pain of the foot and ankle. Unlike osteoarthritis, rheumatoid arthritis generally develops symmetrically, meaning both feet are affected at the same time.
Post-traumatic arthritis develops in the foot or ankle as a result of injury, even one that occurred long ago. For example, a sprain, fracture, or dislocation in the foot or ankle may damage cartilage, leading to premature deterioration of the joint. Symptoms may appear within a few years, or it may take decades for joint damage to cause pain or limit function.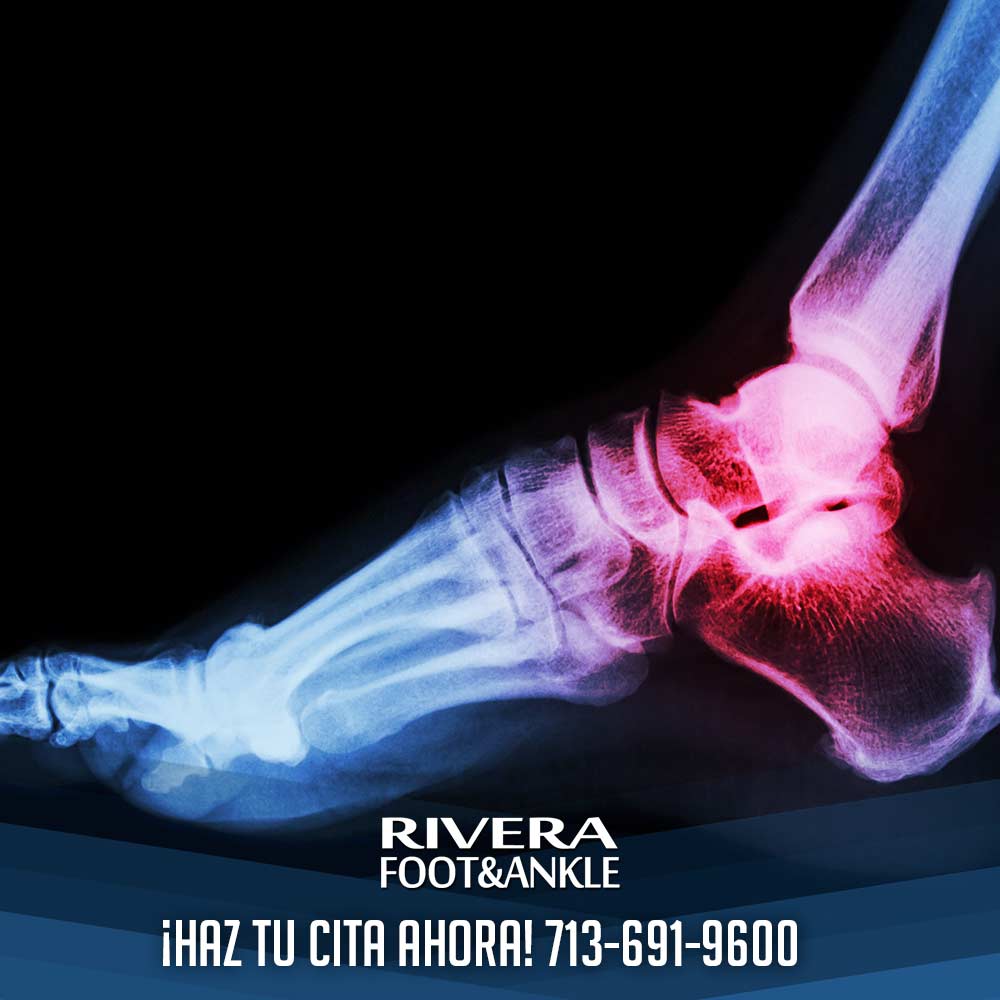 Source: WikiHow
RIVERA FOOT & ANKLE: At Orlando H.Rivera DPM, our priority is to deliver quality care to informed patients in a comfortable and convenient setting. When you have problems with your feet, you need to turn to a podiatrist who listens and responds… an experienced doctor who knows the field and can effectively diagnose and treat your needs… a friendly physician who counsels you on the best ways to maintain and improve your health. Our physician(s) meet all these criteria. Plus, you benefit from a dedicated team of trained professionals who give you the individualized attention you deserve.
 Advanced Foot & Ankle Specialist
Foot and Ankle, Dr. Orlando Rivera, Advanced Foot & Ankle Specialist, Foot and Ankle Podiatry, Houston Foot & Ankle Surgical, Treatment of Foot and Ankle, Foot & ankle specialists, Podiatrist in houston, podiatrist in houston, Orlando H.Rivera DPM, Houston Foot Doctor, Foot and Ankle Surgeon Houston, Ankle and Foot Specialist Houston, Podiatrist Houston, Foot Pain Houston.