How to Cure Nail Fungus
Treating the Fungus with Home Remedies
1.- Apply Vick's VapoRub rub to the nail. When used daily, this ointment (usually used to treat coughing) can be effective in reducing the symptoms of an infection. Apply a small amount with cotton swab.
2.- Soften and trim your nails. Keeping your nails short reduces pressure on your toe or finger, relieving pain. Trimming can become difficult when infected nails become thick and hard, however, so you may need to soften them first. Buy a non-prescription lotion containing urea, which can thin and break down the diseased part of the nail plate.
Before bed, cover the infected nail with the lotion and wrap it in a bandage.
In the morning, rinse your feet with soap and water to remove the cream. The nails should soon begin to soften enough for you to file or cut them.
Look for a 40% urea lotion.
3.- Buy an antifungal cream or ointment. There are many non-prescription options you may want to try before visiting a doctor. First, file off any white markings on the infected nail, then soak it in water for several minutes. Dry your nails before applying the cream with a cotton swab.
Using a cotton swab or other disposable applicator will help prevent the fungus from spreading. Touch the affected area as little as possible.
4.- Use snakeroot extract. In one study, this plant extract was similarly effective as a prescription antifungal cream. Treatment lasts about three months.
Use every three days for the first month.
Use twice a week for the second month.
Use once a week for the third month.
Preventing Reinfection
1.- Wear shower shoes when visiting a public pool, locker room, spa, or showers. Fungal infections spread very easily, and they thrive in damp environments. Protect yourself by wearing flip-flops or other shower shoes that will reduce your contact with potentially contaminated surfaces.
2.- Keep your nails trim, dry, and clean. Wash your hands and feet regularly, making sure you wash between your fingers and toes. Keep your nails short and dry, and file down any thick areas of your nail plate.
Your toenails should not extend beyond the length of your toe.
Try to dry your hands as often as possible if you have a job where your hands are often wet, like bartending or housekeeping. If you have to wear rubber gloves, make sure you change them so your hands don't get too sweaty and damp.
If you suspect you have an infection, do not paint over your nail with regular nail polish and try to hide it. This can trap moisture and make the infection worse.
3.- Wear the right shoes and socks. Throw away old shoes and look for shoes that reduce humidity, which will keep your feet from getting damp. Change your socks regularly (more than once a day if you sweat a lot), and look for fabrics that wick moisture away from your skin, such as wool, nylon and polypropylene.
4.- Visit reputable nail salons and keep your own tools clean. Make sure any salon where you get a manicure or pedicure carefully sterilizes all their tools. If you can't tell how rigorous their sterilizing process is, bring your own instruments and disinfect them afterwards.
Disinfect your nail or cuticle clippers or any other tools you use to keep your nails trim and healthy.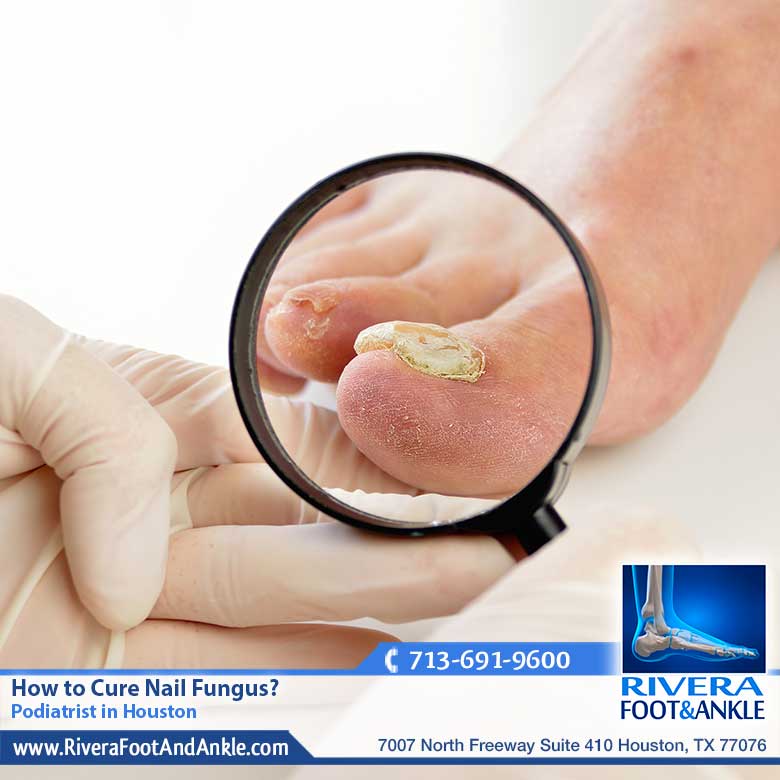 Source: WikiHow
RIVERA FOOT & ANKLE: At Orlando H.Rivera DPM, our priority is to deliver quality care to informed patients in a comfortable and convenient setting. When you have problems with your feet, you need to turn to a podiatrist who listens and responds… an experienced doctor who knows the field and can effectively diagnose and treat your needs… a friendly physician who counsels you on the best ways to maintain and improve your health. Our physician(s) meet all these criteria. Plus, you benefit from a dedicated team of trained professionals who give you the individualized attention you deserve.
Podiatrist in Houston
Foot and Ankle, Dr. Orlando Rivera, Advanced Foot & Ankle Specialist, Foot and Ankle Podiatry, Houston Foot & Ankle Surgical, Treatment of Foot and Ankle, Foot & ankle specialists, Podiatrist in houston, podiatrist in houston, Orlando H.Rivera DPM, Houston Foot Doctor, Foot and Ankle Surgeon Houston, Ankle and Foot Specialist Houston, Podiatrist Houston, Foot Pain Houston.