Foot & Ankle Specialists in Houston
What Does Warm Sensation in the Feet Indicate?
Warm sensation in the feet is very common and can be present in mild or severe form. In addition, this warm sensation in feet is accompanied by tingling or numbness in the feet. The person suffering from it cannot sleep very well at night and gets very irritated. There are few causes of this symptom of warm sensation in the feet which need to be properly identified and treated accordingly. 
When there is warm sensation in the feet it may indicate that there are problems in blood circulation, nerve damage or some chronic conditions. It is observed that any type of burning, tingling or numbness is problem often associated with sensory nerve damage, injury or disease affecting the nerves.
What Does Warm Sensation in the Feet Indicate?
The following are the number of medical conditions that show symptoms of warm sensation in the feet:
Neuropathy: Peripheral neuropathy involves damaged nerves which can cause a warm sensation in the feet. This condition normally occurs in case of diabetes which is characterized by the abnormal level of sugar in the blood. This causes damage to the peripheral nerves and is experienced in the form of warm sensation in the feet. This pain may be mild or severe. It is also seen in other medical conditions such as alcohol abuse, Lyme disease, drug side effects and Vitamin B12 deficiency.
Poor Blood Circulation: When there is a spider/varicose vein or reddish spot on the ankles, it is mainly due to the blood clot. This causes disturbance in the blood circulation and leads to warm sensation in the feet. Periphery artery disease is observed to have narrowed arteries which reduce blood flow to the limbs.
Warm Sensation in the Feet Caused Due to Restless Leg Syndrome: It can cause the warm sensation in the feet which makes the legs move especially at night.
Inflammation: Athlete's foot is a type of fungal infection of the foot which leads to inflammation and causes warm sensation in the feet.
Hypertension:The high blood pressure can cause warm sensation in the feet. Hypertension can also cause decreased circulation resulting in changes in skin colour, reduced pulse rate in the feet and reduced temperature in the extremities along with a burning sensation.
Hypothyroidism: In hypothyroidism, the decrease in the secretion of thyroid hormones results in slow down of body's metabolism. There is swelling all over the body which exerts pressure on the nerves leading to warm or burning sensation.
Tarsal Tunnel Syndrome: In case of tarsal tunnel syndrome, there is compression of the tibial nerve when it passes through the tarsal tunnel on the inner side of the feet and ankle. This compression occurs due to tumor, swelling and cysts present at this site and results in warm sensation of the feet.
Other Causes of Warm Sensation in the Feet: The warm sensation or the burning sensation in the feet can also be caused due to chronic kidney disease, HIV/AIDS, Morton's Neuroma, Vasculitis, side effects due to certain drugs and metal poisoning.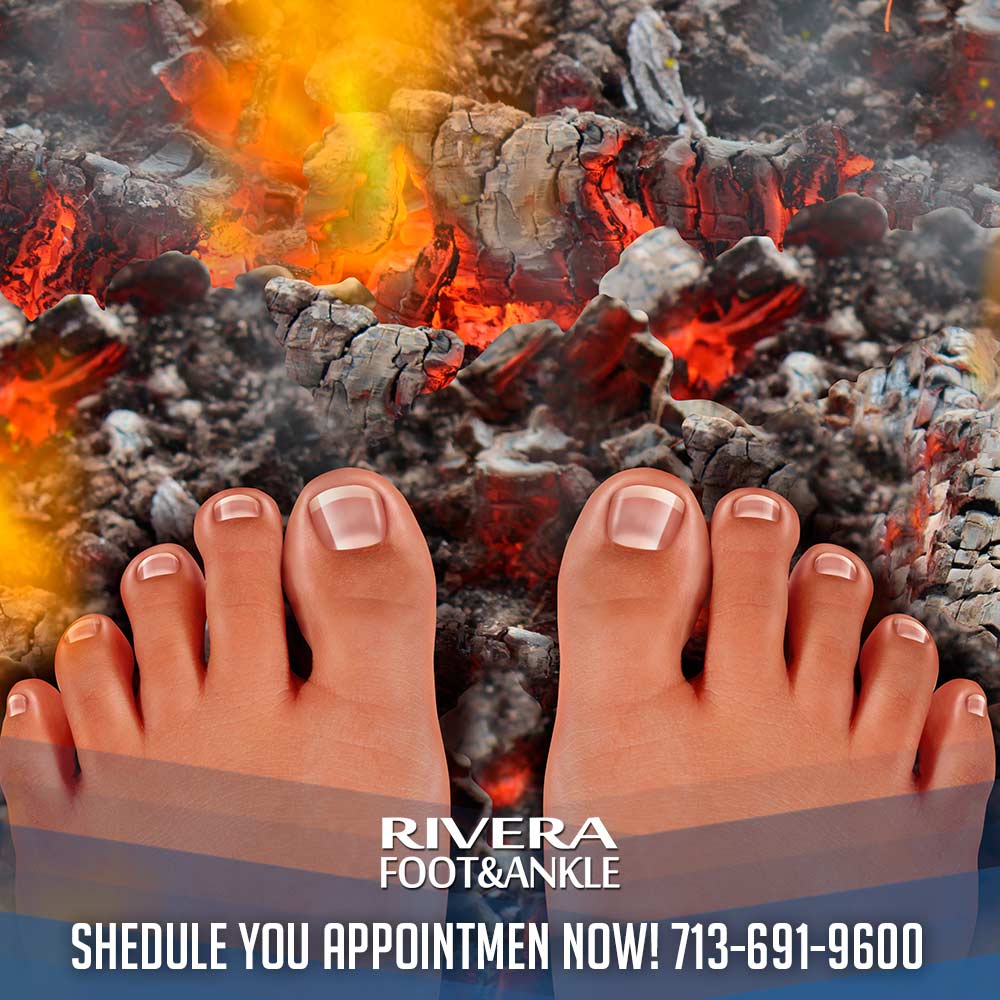 Source: EpainAssist
RIVERA FOOT & ANKLE: At Orlando H.Rivera DPM, our priority is to deliver quality care to informed patients in a comfortable and convenient setting. When you have problems with your feet, you need to turn to a podiatrist who listens and responds… an experienced doctor who knows the field and can effectively diagnose and treat your needs… a friendly physician who counsels you on the best ways to maintain and improve your health. Our physician(s) meet all these criteria. Plus, you benefit from a dedicated team of trained professionals who give you the individualized attention you deserve.
 Foot & ankle specialists
Foot and Ankle, Dr. Orlando Rivera, Advanced Foot & Ankle Specialist, Foot and Ankle Podiatry, Houston Foot & Ankle Surgical, Treatment of Foot and Ankle, Foot & ankle specialists, Podiatrist in houston, podiatrist in houston, Orlando H.Rivera DPM, Houston Foot Doctor, Foot and Ankle Surgeon Houston, Ankle and Foot Specialist Houston, Podiatrist Houston, Foot Pain Houston.