How to prevent toenail fungus
• Keep your nails short, dry and clean. Trim nails straight across and file down thickened areas. Thoroughly dry your feet, including between your toes, after bathing. 
• Wear socks made with synthetic materials that wick away moisture; they can keep feet dryer than cotton or wool socks. Change socks often, especially if your feet sweat excessively.
• Use an antifungal spray or powder. Spray or sprinkle your feet and the insides of your shoes.
• Don't trim or pick at the skin around your nails. This may give germs access to your skin and nails.
• Don't go barefoot in public places. Wear shoes around public pools, showers and locker rooms.
• Choose a reputable manicure and pedicure salon. Make sure the salon sterilizes its instruments. Better yet, bring your own.
• Give up nail polish and artificial nails. It may be tempting to hide fungal infections under pretty pink polish, but this can trap moisture and worsen the infection.
• Wash your hands after touching an infected nail. Nail fungus can spread from nail to nail.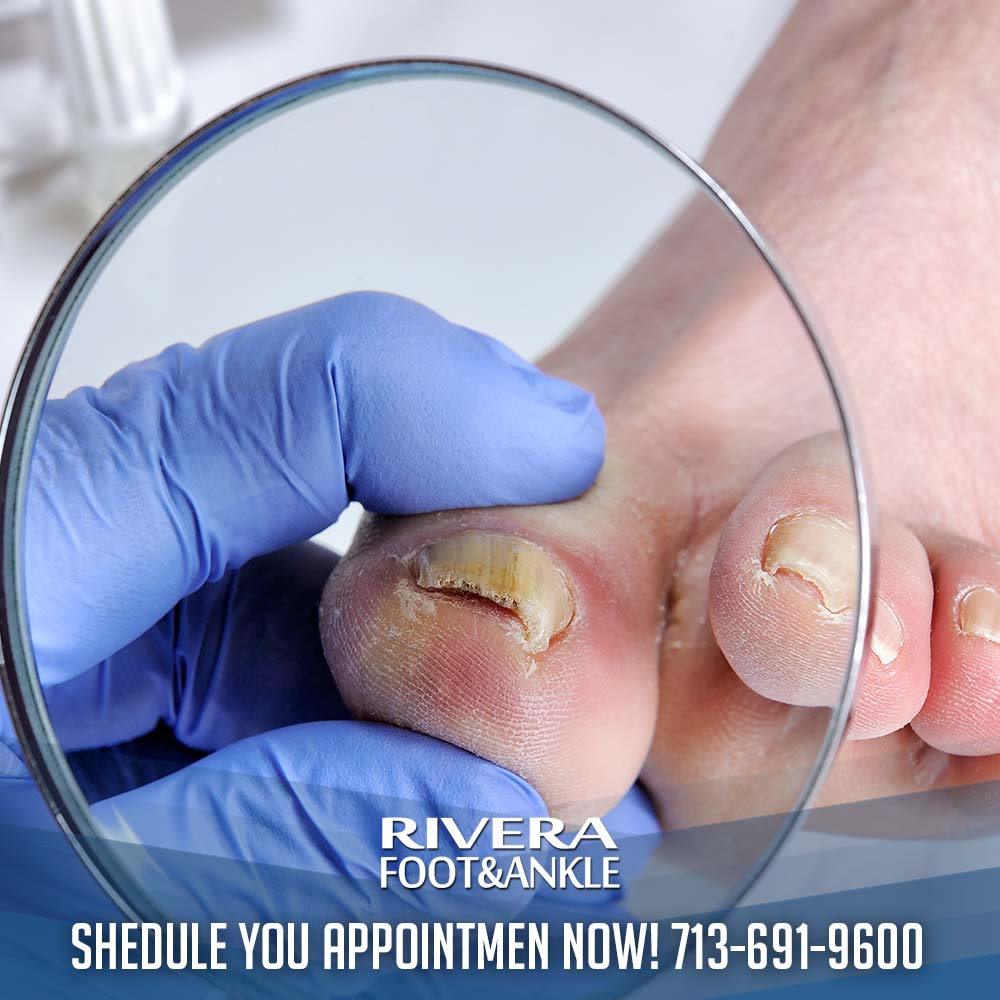 Source: WashingtonPost
RIVERA FOOT & ANKLE: At Orlando H.Rivera DPM, our priority is to deliver quality care to informed patients in a comfortable and convenient setting. When you have problems with your feet, you need to turn to a podiatrist who listens and responds… an experienced doctor who knows the field and can effectively diagnose and treat your needs… a friendly physician who counsels you on the best ways to maintain and improve your health. Our physician(s) meet all these criteria. Plus, you benefit from a dedicated team of trained professionals who give you the individualized attention you deserve.
 Podiatrist  in Houston
Foot and Ankle, Dr. Orlando Rivera, Advanced Foot & Ankle Specialist, Foot and Ankle Podiatry, Houston Foot & Ankle Surgical, Treatment of Foot and Ankle, Foot & ankle specialists, Podiatrist in houston, podiatrist in houston, Orlando H.Rivera DPM, Houston Foot Doctor, Foot and Ankle Surgeon Houston, Ankle and Foot Specialist Houston, Podiatrist Houston, Foot Pain Houston.