Causes and Flat Feet in Children
What are flat feet?
Flat feet are normal in babies and toddlers because the arches in their feet haven't yet developed. The foot arch develops throughout childhood for most individuals, however some will never develop arches in their feet.
Flat foot can also develop in adulthood, but that is not the same pathology that is referred as "flexible flat feet". Arches can fall due to age, wear and tear on the body, or from an injury.
Flat feet are a common condition, often runs in families and is usually painless. In some cases, flat feet can affect the body's alignment, which can cause knee and ankle discomfort.
If the flat feet are not causing pain, no treatment is necessary.
Causes
The causes of flat feet are varied. Some inherit the condition from their parents as an isolated trait, this is particularly true for children with hypermobility or "double jointed". Others develop flat feet as part of another genetic condition. Still others develop the condition over time.
Certain factors can increase the risk of developing flat feet over time including:
Obesity
Diabetes
Rheumatoid arthritis
Foot or ankle injuries
Aging
Signs and symptoms
Most people with flat feet have no complaints or symptoms of the condition. However, some people may experience:
Foot pain, specifically in the heel or arch area
Foot pain that increases with activity
Ankle swelling
Tight heel cords
Follow-up care
Most children with flat feet will not need long-term follow-up care. However, if your child's flat feet begin to cause pain, your child should see a pediatric orthopedic physician.
Outlook
The vast majority of children with flat feet will go on to live normal, healthy lives. Some children may experience intermittent foot pain, but using arch supports, wearing supportive shoes, stretching and resting when needed can ease this.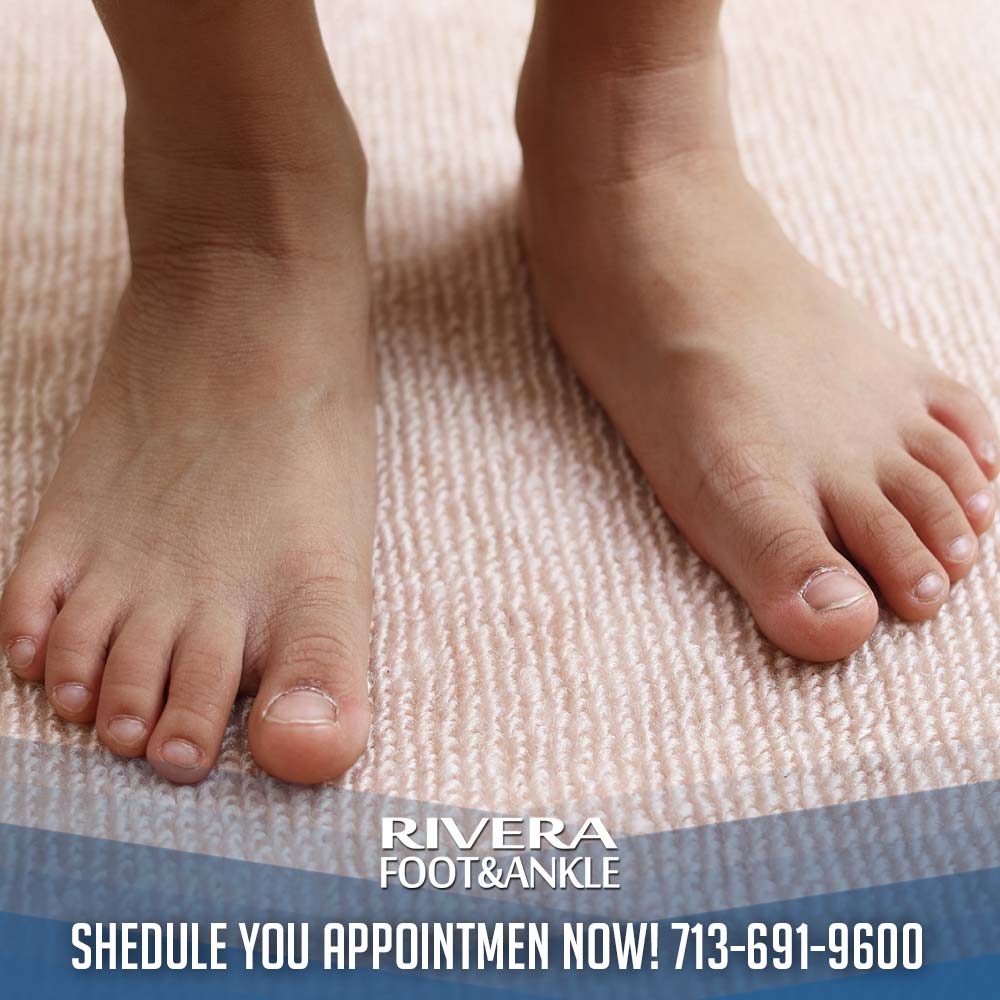 Source:Chop.Edu
RIVERA FOOT & ANKLE: At Orlando H.Rivera DPM, our priority is to deliver quality care to informed patients in a comfortable and convenient setting. When you have problems with your feet, you need to turn to a podiatrist who listens and responds… an experienced doctor who knows the field and can effectively diagnose and treat your needs… a friendly physician who counsels you on the best ways to maintain and improve your health. Our physician(s) meet all these criteria. Plus, you benefit from a dedicated team of trained professionals who give you the individualized attention you deserve.
 Foot and Ankle Podiatry
Foot and Ankle, Dr. Orlando Rivera, Advanced Foot & Ankle Specialist, Foot and Ankle Podiatry, Houston Foot & Ankle Surgical, Treatment of Foot and Ankle, Foot & ankle specialists, Podiatrist in houston, podiatrist in houston, Orlando H.Rivera DPM, Houston Foot Doctor, Foot and Ankle Surgeon Houston, Ankle and Foot Specialist Houston, Podiatrist Houston, Foot Pain Houston.