Risk Factors for Tarsal Tunnel Syndrome
Jobs that require standing for long hours, such as serving or retail jobs, may increase the risk of TTS. Though anyone can develop TTS at any age, some factors greatly increase the risk of developing the condition. 
Common risk factors for TTS include:
chronic overpronation or rolling inward of the foot when walking
flat feet or fallen arches
rheumatoid arthritis
osteoarthritis
diabetes and other metabolic conditions
ankle or foot injury
jobs that require standing or walking for a long time, such as retail, teaching, mechanical, manufacturing, and surgical jobs
poorly-fitting shoes that allow the foot to pronate inward or do not support the arch and ankle
nerve disease
cysts, tumors, or small masses in the foot and ankle area
proliferative synovitis or inflammation of the synovial membrane
varicose veins or inflamed, enlarged veins
foot deformities
reflex sympathetic dystrophy
peripheral neuropathy conditions
generalized leg edema or swelling, especially related to pregnancy
being overweight
Complications
TTS tends to cause pain on the inside of the ankle and bottom of the feet, though it can also impact the toes and lower legs. TTS is similar to carpal tunnel syndrome, involving a nerve being squeezed in a narrow, confined, tunnel-like joint space.
Common symptoms of TTS include:
searing, shooting pain
numbing
tingling
burning
the sensation of electric shocks
weakened ability to flex, bend, and fan out the toes
loss of sensation in the toes and bottom and sides of the feet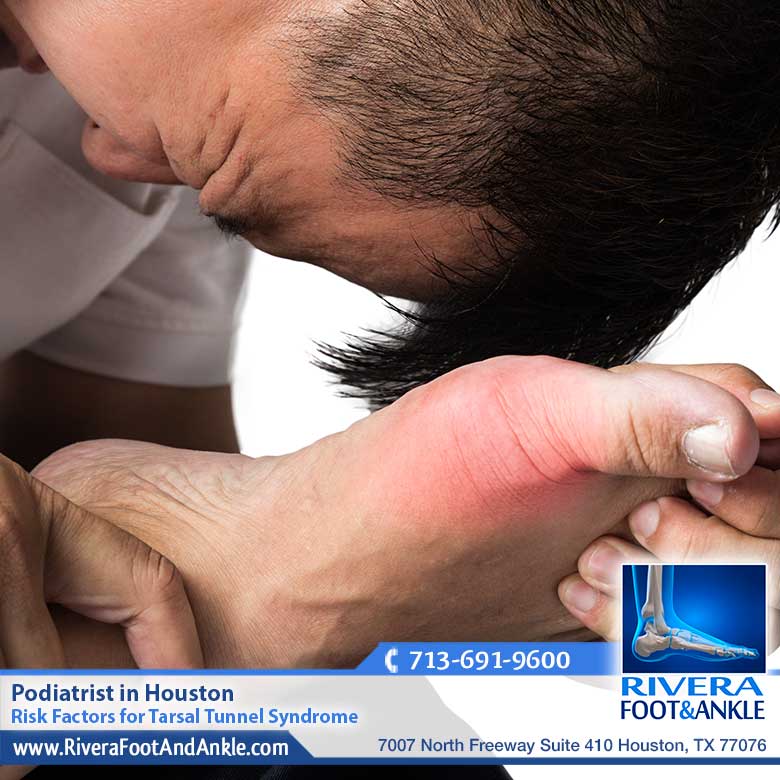 Source: MedicalNewsToday
RIVERA FOOT & ANKLE: At Orlando H.Rivera DPM, our priority is to deliver quality care to informed patients in a comfortable and convenient setting. When you have problems with your feet, you need to turn to a podiatrist who listens and responds… an experienced doctor who knows the field and can effectively diagnose and treat your needs… a friendly physician who counsels you on the best ways to maintain and improve your health. Our physician(s) meet all these criteria. Plus, you benefit from a dedicated team of trained professionals who give you the individualized attention you deserve.
 Podiatrist in Houston
Foot and Ankle, Dr. Orlando Rivera, Advanced Foot & Ankle Specialist, Foot and Ankle Podiatry, Houston Foot & Ankle Surgical, Treatment of Foot and Ankle, Foot & ankle specialists, Podiatrist in houston, podiatrist in houston, Orlando H.Rivera DPM, Houston Foot Doctor, Foot and Ankle Surgeon Houston, Ankle and Foot Specialist Houston, Podiatrist Houston, Foot Pain Houston.