Ingrown toenail-Treatment
Foot and Ankle
If you have diabetes, nerve damage in the leg or foot, poor circulation at the foot or an infection around the nail, go to the doctor at once. Do not try to treat this problem at home.
To treat an incarnated nail at home:
Soak your foot in hot water 3 to 4 times a day if possible. The rest of the time, keep your toe dry.
Apply a massage gently on inflamed skin.
Place a small piece of cotton or floss under the nail. Wet the cotton with water or antiseptic.
When trimming the toenails:
Briefly soak the foot in warm water to soften the nail.
Use a clean, sharp nail clipper.
Trim your toenails straight across the tip. Do not roughen or corrode the corners or trim them too much. Do not try to trim the buried part of the nail yourself, as this will only worsen the problem.
Consider wearing sandals until the problem is gone. Over-the-counter medicines that are placed on the ingrown toenail can help with the pain, but they do not treat the problem.
If this does not work and the ingrown toenail gets worse, go to your family doctor, a foot specialist (podiatrist) or a skin specialist (dermatologist).
If the ingrown toenail does not heal or keeps reappearing, the doctor may remove part of it:
Anesthesia is first injected into the toe.
Using scissors, the doctor then cuts along the edge of the nail where the skin is growing. This portion of the nail is then removed. This is called partial nail avulsion.
It will take 2 to 4 months for the nail to grow again.
Sometimes the doctor will use a chemical, electric current, or other small surgical incision to destroy or remove the area from which a new nail can grow.
If the toe becomes infected, the doctor may prescribe antibiotics.
Source: MedlinePlus
RIVERA FOOT & ANKLE: At Orlando H.Rivera DPM, our priority is to deliver quality care to informed patients in a comfortable and convenient setting. When you have problems with your feet, you need to turn to a podiatrist who listens and responds… an experienced doctor who knows the field and can effectively diagnose and treat your needs… a friendly physician who counsels you on the best ways to maintain and improve your health. Our physician(s) meet all these criteria. Plus, you benefit from a dedicated team of trained professionals who give you the individualized attention you deserve.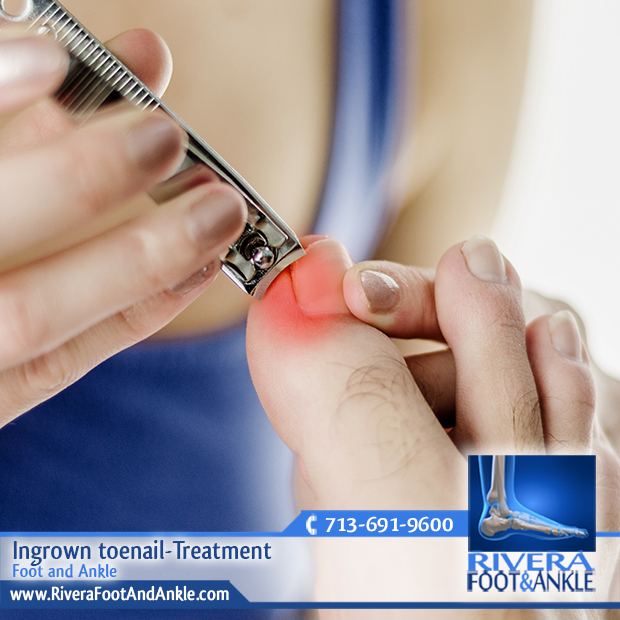 Foot and Ankle.
Foot and Ankle, Dr. Orlando Rivera, Advanced Foot & Ankle Specialist, Foot and Ankle Podiatry, Houston Foot & Ankle Surgical, Treatment of Foot and Ankle, Foot & ankle specialists, Podiatrist in houston, podiatrist in houston, Orlando H.Rivera DPM, Houston Foot Doctor, Foot and Ankle Surgeon Houston, Ankle and Foot Specialist Houston, Podiatrist Houston, Foot Pain Houston.