How to Remove Infection from a Buried Nail
Advanced Foot & Ankle Specialist
1. - Soak your toe. - To lessen the pain and swelling from the buried nail, soak the nail-soaked foot in warm, soapy water for about 10 to 20 minutes, three times a day for one to two weeks.
Epsom salts also help decrease pain and inflammation. Fill a tub with warm water and add 1 to 2 tablespoons of Epsom salts. Put your foot in the water and relax while you soak it. When finished, dry completely. You can do this procedure several times a day if you feel that the pain becomes more intense.
Never soak your foot in hot water. You should always soak it in warm water.
2. - Lift the edge of the nail upwards. - To release the pressure below the edge of the buried nail, doctors sometimes recommend raising the nail slightly upwards. Do this by putting some cotton or floss under the edge of the nail. With this technique you can separate the nail from the skin so that it is no longer attached to it.
If you use cotton, you can bathe it in antiseptic to help decrease the pain and avoid infection under the nail. If the nail is infected, this can also help absorb the moisture trapped beneath it.
If you use dental floss, make sure it has no scent or wax. Do not insert any metal tool under the nail to try to place the cotton or thread, as it could damage the finger more.
3. - Apply an antibacterial ointment. - Antibacterial ointments are good for treating an infected burial claw. Before you apply the cream, dry your finger completely. Cover the infected area with an antibacterial cream. Apply a thick layer of ointment over the infected area of ​​the finger. Wrap your finger with a bandage like a large bandita to prevent debris from penetrating the wound and keep the ointment in place. Uses antibacterial ointments.
4. - Visit a foot doctor (podiatrist). - Infected buried nails should not be treated at home, as most infected wounds usually do. Visit a podiatrist who can recommend a treatment for your infection. If the infection and nail are in very bad condition, you may need minor surgery. In most cases, however, a simple surgical procedure is performed involving numbness of the buried nail bed and then removal of part of the nail with the aid of nail clippers and scissors.
They may prescribe oral antibiotics to prevent further infections. If you are prescribed antibiotics, be sure to complete the entire procedure and follow your doctor's instructions.
Source: WikiHow
RIVERA FOOT & ANKLE: At Orlando H.Rivera DPM, our priority is to deliver quality care to informed patients in a comfortable and convenient setting. When you have problems with your feet, you need to turn to a podiatrist who listens and responds… an experienced doctor who knows the field and can effectively diagnose and treat your needs… a friendly physician who counsels you on the best ways to maintain and improve your health. Our physician(s) meet all these criteria. Plus, you benefit from a dedicated team of trained professionals who give you the individualized attention you deserve.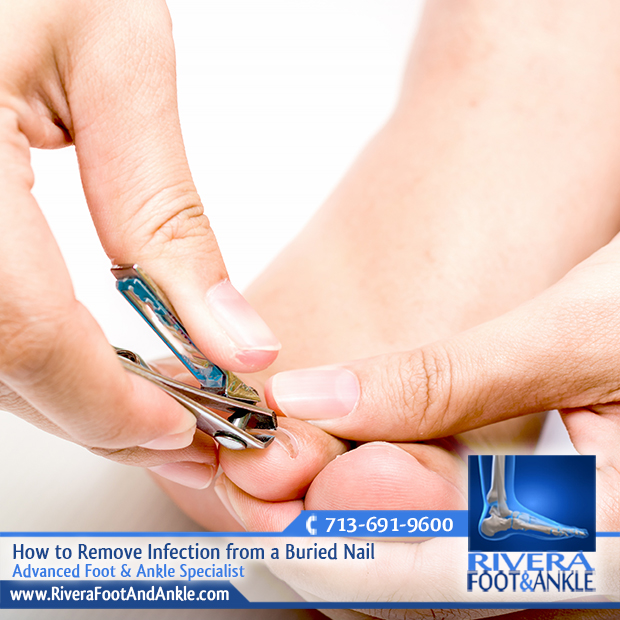 Advanced Foot & Ankle Specialist.
Foot and Ankle, Dr. Orlando Rivera, Advanced Foot & Ankle Specialist, Foot and Ankle Podiatry, Houston Foot & Ankle Surgical, Treatment of Foot and Ankle, Foot & ankle specialists, Podiatrist in houston, podiatrist in houston, Orlando H.Rivera DPM, Houston Foot Doctor, Foot and Ankle Surgeon Houston, Ankle and Foot Specialist Houston, Podiatrist Houston, Foot Pain Houston.