How to cure a fast ankle sprain?
Foot and Ankle
The first thing is to rest the ankle and avoid doing activities that could damage it more. Sometimes it may be advisable to use crutches or a cane (as directed by the doctor) also a good Ankle provides reinforcement to a joint in recovery process. Physical activity should not be completely avoided. Swimming can be a good substitute for running.
To prevent inflammation and pain, it is recommended to apply ice to the ankle about 15 minutes, 5 times a day for the first 3 days, including the time just after the sprain.
Another important point is to compress the ankle joint with a bandage that runs from the middle of the calf (more or less) to the toes. The pressure should be uniform, but not over. You will know that the bandage is too tight if the toes become dull or start to numb. One of the best options is to wear an ankle brace that compresses the area well. In this post we present several types of anklets according to the scope of your ailment.
When you are at home comfortably sitting on the couch or lying on the bed, keep your foot raised above your heart. You can put your foot on a pair of comfortable cushions. This serves to help drain fluid from inflammation.
Once you regain mobility, do exercises to strengthen your ankle. Some useful exercises for the treatment of ankle sprain are:
Move your foot in circles
Draw the letters of the alphabet with the toes
Stretch the foot moving from front to back
Following these tips to heal quickly an ankle sprain, you can resume your normal daily activity as soon as possible.
Source: El Blog de la Salud
RIVERA FOOT & ANKLE: At Orlando H.Rivera DPM, our priority is to deliver quality care to informed patients in a comfortable and convenient setting. When you have problems with your feet, you need to turn to a podiatrist who listens and responds… an experienced doctor who knows the field and can effectively diagnose and treat your needs… a friendly physician who counsels you on the best ways to maintain and improve your health. Our physician(s) meet all these criteria. Plus, you benefit from a dedicated team of trained professionals who give you the individualized attention you deserve.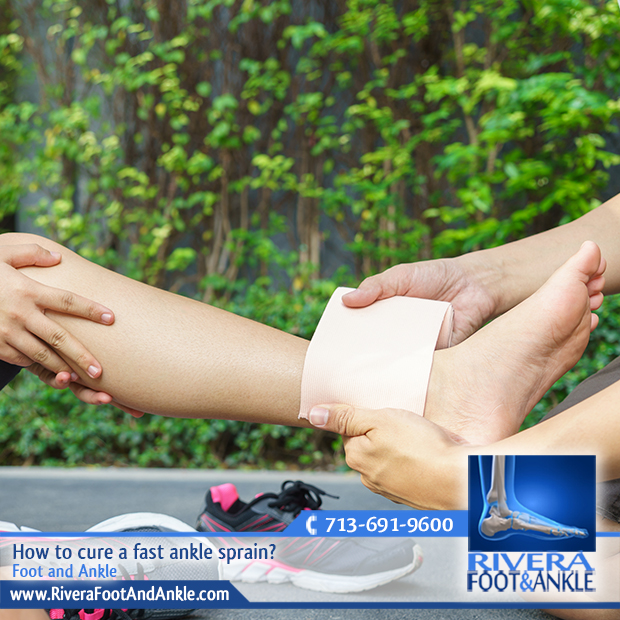 Foot and Ankle.
Foot and Ankle, Dr. Orlando Rivera, Advanced Foot & Ankle Specialist, Foot and Ankle Podiatry, Houston Foot & Ankle Surgical, Treatment of Foot and Ankle, Foot & ankle specialists, Podiatrist in houston, podiatrist in houston, Orlando H.Rivera DPM, Houston Foot Doctor, Foot and Ankle Surgeon Houston, Ankle and Foot Specialist Houston, Podiatrist Houston, Foot Pain Houston.