What to Consider When Choosing Your Footwear
Foot and Ankle
What Will You Be Using Them For.
Shoes are all made to serve a different purpose, even though it may not seem that way. When you are looking to buy a new pair of shoes, take into consideration what the sole purpose of these shoes is going to be. Are you going to be primarily running or walking in these shoes? Where shoes differ here is in the stiffness and the support that they provide. In order to ensure that your feet are comfortable and provide you with the care you need, you need to be searching for shoes that serve one sole purpose.
Know Your Arch.
Arches differ from foot to foot, and that means that the shoes that you pick need to match the arch of your foot. Being aware of the condition of your foot will make the process of purchasing shoes much easier, but asking the person that is working in the department for a suggestion is another option. Settling for a pair of shoes that does not have the arch your foot needs could lead to some serious foot care issues down the road, so take a little extra time and try on shoes to ensure that any flat feet, weak arches or over arches are taken care of in your new pair of shoes.
If you're really concerned about what type of shoe you should be wearing, your best bet might be stopping in and talking with a foot specialist to determine what types of care and precautions you need to be taking.
Source: Feet Genius
RIVERA FOOT & ANKLE: At Orlando H.Rivera DPM, our priority is to deliver quality care to informed patients in a comfortable and convenient setting. When you have problems with your feet, you need to turn to a podiatrist who listens and responds… an experienced doctor who knows the field and can effectively diagnose and treat your needs… a friendly physician who counsels you on the best ways to maintain and improve your health. Our physician(s) meet all these criteria. Plus, you benefit from a dedicated team of trained professionals who give you the individualized attention you deserve.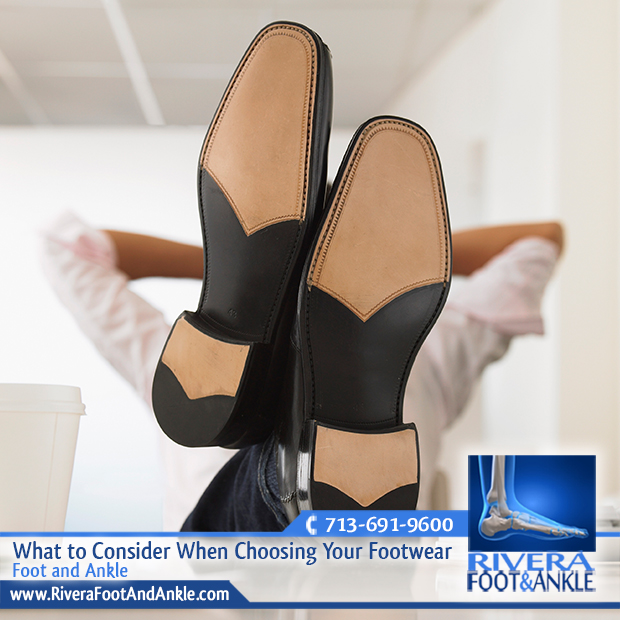 Foot and Ankle.
Foot and Ankle, Dr. Orlando Rivera, Advanced Foot & Ankle Specialist, Foot and Ankle Podiatry, Houston Foot & Ankle Surgical, Treatment of Foot and Ankle, Foot & ankle specialists, Podiatrist in houston, podiatrist in houston, Orlando H.Rivera DPM, Houston Foot Doctor, Foot and Ankle Surgeon Houston, Ankle and Foot Specialist Houston, Podiatrist Houston, Foot Pain Houston.