Common causes of leg pain
Some of the more common causes of leg pain are minor or temporary conditions that your doctor can treat effectively. 
A primary cause of leg pain is a muscle cramp or spasm that's often known as "a charley horse." A cramp usually triggers sudden, sharp pain as the leg muscles contract. The tightening muscles often form a visible, hard lump beneath the skin. There may be some redness and swelling in the surrounding area.

Muscle fatigue and dehydration may lead to leg cramps, especially in the calf. Certain medications, including diuretics and statins, may also cause leg cramps in some people.

Injuries

Leg pain is also frequently a sign of injury, such as the following:
Muscle strain is a common injury that happens when the muscle fibers tear as a result of overstretching. It often occurs in the larger muscles, such as the hamstrings, calves, or quadriceps.
Tendinitis is inflammation of a tendon. Tendons are thick cords that join the muscles to bone. When they become inflamed, it can be difficult to move the affected joint. Tendinitis often affects tendons in the hamstrings or near the heel bone.
Knee bursitis happens when the fluid-filled sacs, or bursa, surrounding the knee joint become inflamed.
Shin splints cause pain along the inner edge of the shinbone, or tibia. The injury can occur when the muscles around the shinbone tear as a result of overuse.
Stress fractures are tiny breaks in the leg bones, particularly those in the shinbone.

Source: healthline
RIVERA FOOT & ANKLE: At Orlando H.Rivera DPM, our priority is to deliver quality care to informed patients in a comfortable and convenient setting. When you have problems with your feet, you need to turn to a podiatrist who listens and responds… an experienced doctor who knows the field and can effectively diagnose and treat your needs… a friendly physician who counsels you on the best ways to maintain and improve your health. Our physician(s) meet all these criteria. Plus, you benefit from a dedicated team of trained professionals who give you the individualized attention you deserve.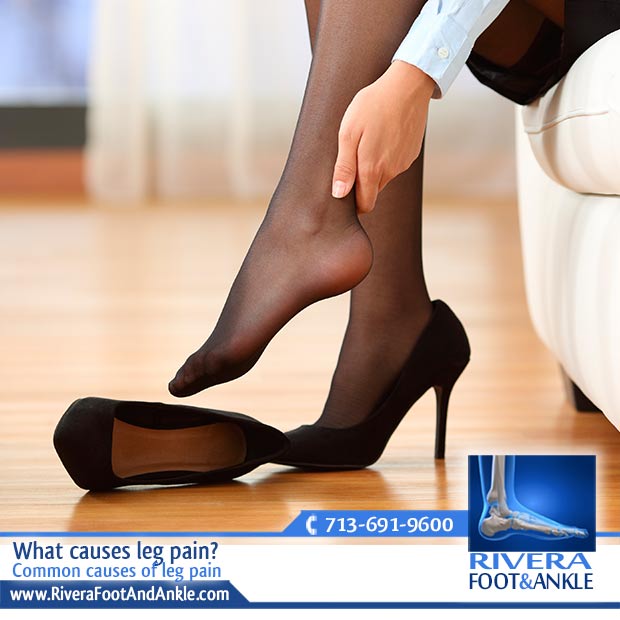 Foot & ankle specialists, Podiatrist in houston.

Foot and Ankle, Dr. Orlando Rivera, Advanced Foot & Ankle Specialist, Foot and Ankle Podiatry, Houston Foot & Ankle Surgical, Treatment of Foot and Ankle, Foot & ankle specialists, Podiatrist in houston, podiatrist in houston, Orlando H.Rivera DPM, Houston Foot Doctor, Foot and Ankle Surgeon Houston, Ankle and Foot Specialist Houston, Podiatrist Houston, Foot Pain Houston.