7 Common Causes for Cramps
Foot and Ankle
Whether day or night, your foot and calf muscles can spasm or cramp. This can happen to various muscles not just in the legs or feet though these cramps are often most uncomfortable. 
Causes for muscle cramps include:

1. Lack of hydration.If you are experiencing cramping, it's important to look at your hydration first. You want to make sure you are drinking enough water throughout the day.
2. Problems with nutrition. While a balance of electrolytes (calcium, sodium, potassium, and magnesium) is essential for the contraction and relaxation of a muscle, it's best not to simply self-treat with supplements. Taking excess supplements if you don't need them can be harmful. Eating a variety of foods with plenty of colorful fruits and vegetables. This includes leafy greens and fruits, including bananas, to add a balance of electrolytes to you diet.
3. Side effect of medication. Some medications such as statins and furosemide can also cause muscle cramps. A tip-off is when cramps start suddenly after you begin taking a new medication. If this happens, see your practitioner.
4. Not stretching enough. Taking time to stretch each day, including after a brief warm up or after a shower can help. You want your muscles to be as strong and supple as they can be. Adequate stretching after a brief warm-up period is key to this.
5. Overexertion. If you exercise harder than usual or experience muscle fatigue, this can cause cramps. Pace yourself.
6. Poor circulation. If you have cramping that increases when you walk, it could be a problem with your circulation. Some circulation problems cause pain that feels like cramping. If it gets worse when you walk, or if you have cramps that just don't stop, definitely see your doctor.
7. The wrong shoes. A less-known cause for muscle cramping: your shoes. You want to look at your shoes, especially if you changed from flats to heels. This also can cause cramps.
Source: health.clevelandclinic
RIVERA FOOT & ANKLE: At Orlando H.Rivera DPM, our priority is to deliver quality care to informed patients in a comfortable and convenient setting. When you have problems with your feet, you need to turn to a podiatrist who listens and responds… an experienced doctor who knows the field and can effectively diagnose and treat your needs… a friendly physician who counsels you on the best ways to maintain and improve your health. Our physician(s) meet all these criteria. Plus, you benefit from a dedicated team of trained professionals who give you the individualized attention you deserve.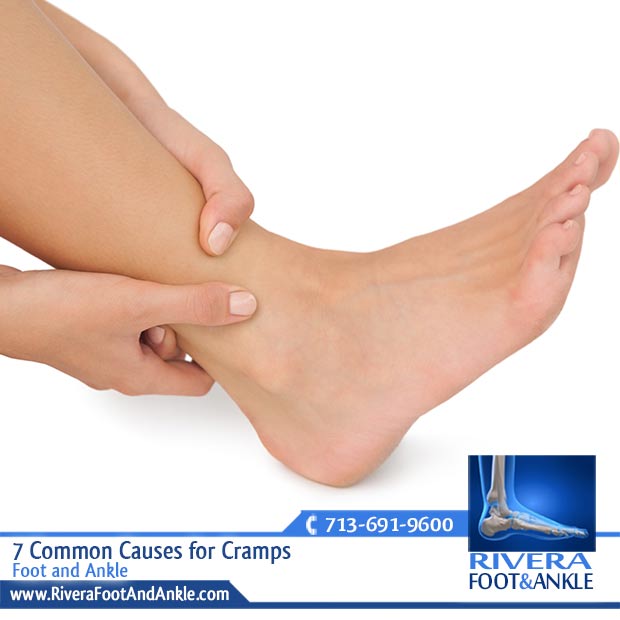 Foot and Ankle.

Foot and Ankle, Dr. Orlando Rivera, Advanced Foot & Ankle Specialist, Foot and Ankle Podiatry, Houston Foot & Ankle Surgical, Treatment of Foot and Ankle, Foot & ankle specialists, Podiatrist in houston, podiatrist in houston, Orlando H.Rivera DPM, Houston Foot Doctor, Foot and Ankle Surgeon Houston, Ankle and Foot Specialist Houston, Podiatrist Houston, Foot Pain Houston.