Ankle Sprains Can Be a Painful Experience
Happens When the Ligaments are Torn or Stretched
Often times the injured person will experience limited mobility, swelling, and, depending on the severity, discoloration of the skin. This type of injury takes place when the ligaments are torn or stretched beyond their limits. Although this can occur in various areas of the body, the ankle is the most common site for a sprain.
There are multiple ways that the ankle can become injured like this. However, the simple act of walking may cause a sprain. If footing is lost or the person is walking on uneven terrain, local damage may occur. This may be especially so for athletes that continually push their limits, or for the person who has suffered from a previous accident involving the lower extremities.
In the majority of cases, medical attention is not required for a sprained ankle. Remedies for self-care at home include propping the ankle up, applying ice packs as needed, and remaining off your feet. Some may also find that wrapping with an ACE bandage and taking over-the-counter pain relievers are helpful. One of the most important things is to avoid further stress to the affected area.
Although rare, complications may arise and obtaining medical treatment may become necessary. A severe sprain can actually tear the ligament and even damage the muscle. When this occurs, the person may have to be off their feet for a prolonged period of time. Depending on the severity and nature of the damage, surgery and physical therapy may be required. Seeking out a podiatrist will help in making these decisions.
Source: thepodiatrycenter
RIVERA FOOT & ANKLE: At Orlando H.Rivera DPM, our priority is to deliver quality care to informed patients in a comfortable and convenient setting. When you have problems with your feet, you need to turn to a podiatrist who listens and responds… an experienced doctor who knows the field and can effectively diagnose and treat your needs… a friendly physician who counsels you on the best ways to maintain and improve your health. Our physician(s) meet all these criteria. Plus, you benefit from a dedicated team of trained professionals who give you the individualized attention you deserve.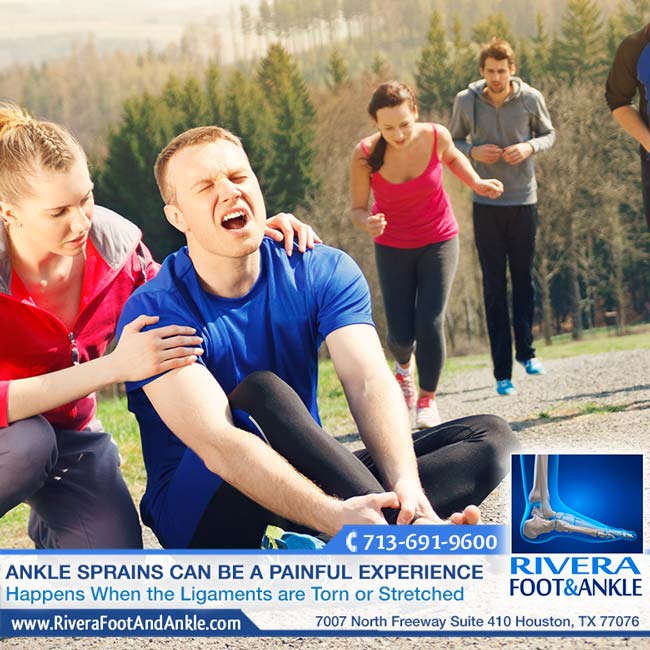 Orlando H.Rivera DPM
Foot and Ankle, Dr. Orlando Rivera, Advanced Foot & Ankle Specialist, Foot and Ankle Podiatry, Houston foot & Ankle Surgical, Treatment of Foot and Ankle, Foot & ankle specialists, Podiatrist in houston, podiatrist in houston, Orlando H.Rivera DPM, Houston Foot Doctor, foot and Ankle Surgeon Houston, Ankle and Foot Specialist Houston, Podiatrist Houston, Foot Pain Houston