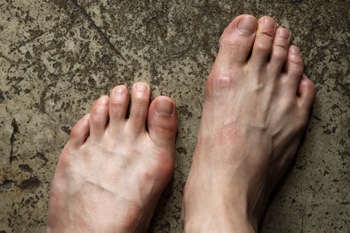 If You Have Diabetes Should Do This
Wash feet daily. Using mild soap and lukewarm water, wash your feet in the mornings or before bed each evening. Dry carefully with a soft towel, especially between the toes, and dust your feet with talcum powder to wick away moisture. If the skin is dry, use a good moisturizing cream daily, but avoid getting it between the toes.
Inspect feet and toes daily. Check your feet every day for cuts, bruises, sores or changes to the toenails, such as thickening or discoloration. If age or other factors hamper self-inspection, ask someone to help you, or use a mirror.
Lose weight. People with diabetes are commonly overweight, which nearly doubles the risk of complications.
Wear thick, soft socks. Socks made of an acrylic blend are well suited, but avoid mended socks or those with seams, which could rub to cause blisters or other skin injuries.
Stop smoking. Tobacco can contribute to circulatory problems, which can be especially troublesome in patients with diabetes.
Cut toenails straight across. Never cut into the corners, or taper, which could trigger an ingrown toenail. Use an emery board to gently file away sharp corners or snags. If your nails are hard to trim, ask your podiatrist for assistance.
Exercise. As a means to keep weight down and improve circulation, walking is one of the best all-around exercises for the diabetic patient. Walking is also an excellent conditioner for your feet. Be sure to wear appropriate athletic shoes when exercising. Ask your podiatric physician what's best for you.
See your podiatric physician. Regular checkups by your podiatric physician—at least annually—are the best way to ensure that your feet remain healthy.
Be properly measured and fitted every time you buy new shoes. Shoes are of supreme importance to diabetes sufferers because poorly fitted shoes are involved in as many as half of the problems that lead to amputations. Because foot size and shape may change over time, everyone should have their feet measured by an experienced shoe fitter whenever they buy a new pair of shoes.
New shoes should be comfortable at the time they're purchased and should not require a "break-in" period, though it's a good idea to wear them for short periods of time at first. Shoes should have leather or canvas uppers, fit both the length and width of the foot, leave room for toes to wiggle freely, and be cushioned and sturdy.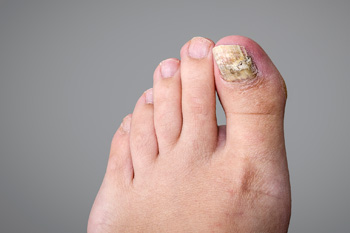 Description and Tips
Onychomycosis is an infection of the bed and plate underlying the surface of the nail, and is caused by various types of fungi, which are commonly found throughout the environment. Fungi are simple parasitic plant organisms, such as molds and mildew, that lack chlorophyll and therefore do not require sunlight for growth. A group of fungi called dermatophytes easily attack the nail, thriving off keratin, the nail's protein substance.
When the tiny organisms take hold, the nail may become thicker, yellowish-brown or darker in color, and foul smelling. Debris may collect beneath the nail plate, white marks frequently appear on the nail plate, and the infection is capable of spreading to other toenails, the skin, or even the fingernails.
Because it is difficult to avoid contact with microscopic organisms like fungi, the toenails are especially vulnerable around damp areas where people are likely to be walking barefoot--swimming pools, locker rooms, and showers, for example. Injury to the nail bed may make it more susceptible to all types of infection, including fungal infection. Those who suffer chronic diseases, such as diabetes, circulatory problems, or immune-deficiency conditions, are especially prone to fungal nails. Other contributory factors may be a history of athlete's foot and excessive perspiration.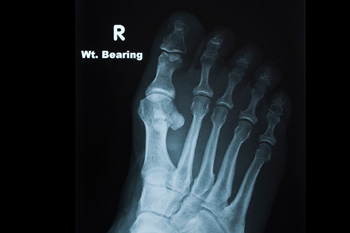 Foot and Ankle Disease
Bone spurs are bony projections that develop along the edges of bones. Also called osteophytes, bone spurs often form where bones meet each other in your joints. Bone spurs can also form on the bones of your spine.
The main cause of bone spurs is the wear-and-tear damage associated with osteoarthritis. Most bone spurs cause no symptoms and may go undetected for years. Bone spurs may not require treatment. Decisions about treatment depend on where spurs are located and how they affect your health.
Most bone spurs cause no signs or symptoms. Often you don't even realize you have bone spurs until an X-ray for another condition reveals the growths. In some cases, though, bone spurs can cause pain and loss of motion in your joints.
Definition and Symptoms
Morton's neuroma is a painful condition that affects the ball of your foot, most commonly the area between your third and fourth toes. Morton's neuroma may feel as if you are standing on a pebble in your shoe or on a fold in your sock.
Morton's neuroma involves a thickening of the tissue around one of the nerves leading to your toes. This can cause a sharp, burning pain in the ball of your foot. Your toes also may sting, burn or feel numb.
High-heeled shoes have been linked to the development of Morton's neuroma. Many people experience relief by switching to lower heeled shoes with wider toe boxes. Sometimes corticosteroid injections or surgery may be necessary.